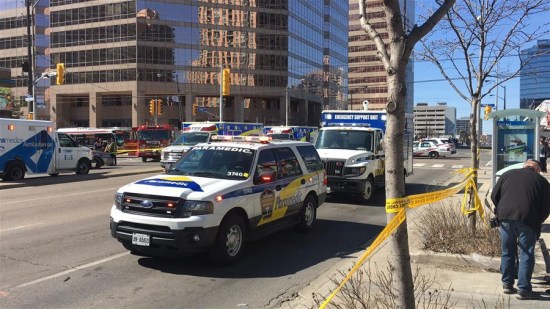 Ambulances are seen near the site where a van struck pedestrians in Toronto, Canada, April 23, 2018. A white van struck multiple pedestrians in Toronto's northern suburbs on Monday and police have taken the driver into custody, police said on Twitter. (Xinhua/Zou Zheng)
At least nine people were killed and 16 others injured after a van plowed into pedestrians in Toronto's northern suburbs on Monday, police said.
The white van jumped a curb and plowed into pedestrians. The driver fled briefly but was soon arrested, according to the police.
Police cordoned off several city blacks and Toronto Transit Commission (TTC) has sent an alert, saying that there is no subway service between Sheppard and Finch Stations due to a Toronto Police investigation at Sheppard Station, street level.
Police didn't immediately identify the driver, and said it was not clear whether the crash was accidental or the driver had a motive.
Canada's Minister of Public Safety Ralph Goodale told a press conference that Toronto police are conducting a probe.
"The investigation is at a stage where no further information can be confirmed at this point. The police are conducting obviously their thorough investigation to determine what happened and why it happened, the motivations involved."
At least seven people were rushed to nearby Sunnybrook Health Services Centre's trauma center, the hospital said on Twitter, adding that the emergency department has been locked down as an added precaution.
The incident took place about 29 kilometers from the city center, where foreign ministers from the G7 countries were meeting to discuss world issues.
After the tragedy, Prime Minister Justin Trudeau said in Ottawa, "we're just learning about the situation in Toronto. Our hearts go out to anyone affected."