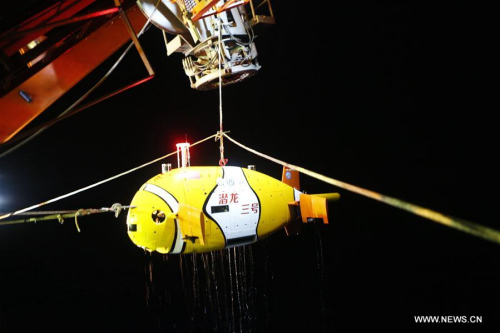 Qianlong 3 is retrieved from its second dive into the sea back to the Chinese research vessel Dayang Yihao, on April 22, 2018. (Liu Shiping/Xinhua)
China's newest ocean craft goes 156.8 kilometers, exceeding goal
China's newest unmanned submersible, Qianlong 3, completed a journey of 156.8 kilometers during its second test dive in the South China Sea recently, setting a national record for the longest voyage by an underwater craft, a scientist said on Monday.
Qianlong 3 began its trip by plunging some 3,850 meters on Saturday. After about 43 hours, on Sunday evening, it finished its journey and was retrieved by crew members aboard the Chinese research vessel Dayang Yihao, Xu Yijun, the craft's deputy chief engineer, told Xinhua News Agency.
The goal was for it to go for at least 30 hours at 2 knots and cover a distance of 60 nautical miles, or 111 km.
"The end test result was great," Xu said.
Qianlong 3's advantages over its predecessors-lower energy use and greater propulsion power-are responsible for the excellent results, he added.
Qianlong 3, which is capable of reaching a depth of 4,500 meters, completed its maiden dive in the South China Sea on Friday. The first dive lasted around nine hours and reached a depth of about 3,900 meters.
Liu Jian, the submersible's chief designer, told Xinhua that the new vehicle will further strengthen China's technological capabilities in deep sea research and development, especially in more complex studies of seabed environments for scientific or mining purposes.
Qianlong 3 features designs similar to a clownfish, down to its signature orange and white stripes, big eyes and wavy tail. The submersible is 3.5 meters long, 1.5 meters high and weighs 1.5 metric tons.
The craft is equipped with high-definition cameras and sensors, sonar systems for obstacle evasion, fully rotatable rudders and additional propellers for faster turning.
Unlike its predecessor, Qianlong 2-which has some similar design features and made its maiden dive in 2014-the new submersible is quieter, faster, uses less energy and has more domestically made components, Xu said. As a result, it can collect more data.
Qianlong 2 can operate for 30 hours underwater, but the upgraded submersible has significantly longer endurance, Xu said.
The Qianlong series of underwater vehicles was developed by the Chinese Academy of Sciences' Shenyang Institute of Automation.