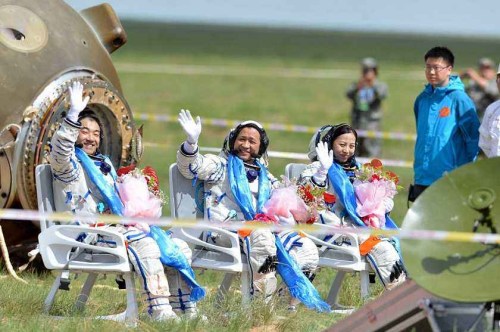 Astronauts Zhang Xiaoguang, Nie Haisheng and Wang Yaping (from left to right) wave after getting out of the re-entry capsule of China's Shenzhou-10 spacecraft following its successful landing at the main landing site in north China's Inner Mongolia Autonomous Region on June 26, 2013. (Photo/Xinhua)
China officially launched the selection of its third batch of astronauts on Monday, and is expected to select about 17 to 18 trainees, including women, an official closely related to manned space announced.
"The selection consists of three periods, and we will select not only males but also female candidates for the third batch of astronauts," said Yang Liwei, deputy head of the China Manned Space Agency and the nation's first astronaut.
"The total number of candidates will be about 17 to 18. The types of astronauts covered are pilots, maintenance engineers and payload scientists," he said.
The work backgrounds and types of people eligible for recruitment will also be different from previous selections.
"The scope will cover not only pilots from the People's Liberation Army Air Force, but also flight engineers and scientists from related industries, universities and institutions," Yang said.
In the previous two rounds, only pilots from the PLA Air Force were selected.