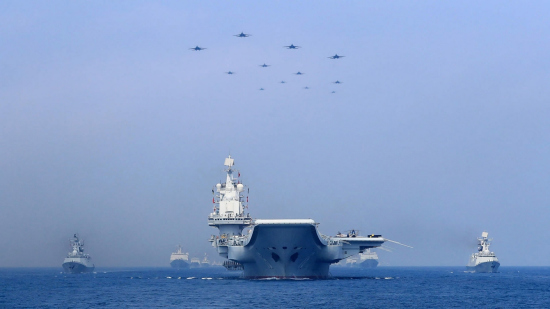 Chinese aircraft carrier at the navy parade in the South China Sea. (Photo/CCTV.com)
Chinese People's Liberation Army Navy was first built on April 23, 1949, after facing the stigma of constantly being defeated at sea since the first British invasion of China in 1840. The last 69 years have witnessed China's effort and development to gradually shape its maritime defense system by commissioning a series of advanced vessels.
On April 26, 2017, China launched its second aircraft carrier in the Dalian shipyard of the China Shipbuilding Industry Corp., a milestone in the development of the country's home-made aircraft carrier. The first domestically-built aircraft carrier came after the Liaoning, a refitted former Soviet Union-made carrier that was put into commission in the Chinese navy in 2012.
In June 2017, China launched a new destroyer, a 10,000-ton domestically designed and produced vessel. As the first of China's new generation of destroyers, it is equipped with new air defense, anti-ship and anti-submarine weapons. It marked a major step for the country in improving the navy armament system and building a strong and modern maritime force.
And in September 2017, China launched the first replenishment oiler, 40,000-ton "Hulun Lake", a new type of naval auxiliary ship which can refuel aircraft carriers at sea, making China's navy development more hierarchical and scientific.
On April 12, 2018, Chinese President Xi Jinping, also general secretary of the Communist Party of China Central Committee and chairman of the Central Military Commission, reviewed the PLA Navy in the South China Sea. The largest naval parade in China's history featured 48 vessels and 76 fighter jets, including aircraft carrier Liaoning, J-15 fighter jets and nuclear submarines as well as more than 10,000 personnel.
The 69th anniversary is a milestone for the Chinese PLA Navy - marking its development into a world-class naval power and readiness to guard its core interests at sea and undertake more international responsibilities.