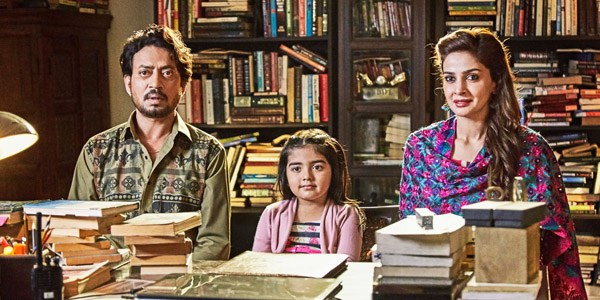 A poster of Indian film Hindi Medium, the latest Bollywood feature in China. (Photo provided to China Daily)
India has sought more space in China's entertainment industry, in a sign of growing confidence in its cinematic exports to the country.
Visiting Indian officials recently proposed the creation of two additional "working groups", one on culture and the other on pharmaceuticals, under an existing bilateral mechanism that covers infrastructure, technology, energy, resource conservation and policy coordination.
In his opening remarks at the fifth meeting of the India-China Strategic Economic Dialogue in Beijing on April 14, Rajiv Kumar, the deputy chairman of India's main economic planning body, Niti Aayog, called for the liberalization of China's entertainment sector.
"We would like to expose the Chinese population to some more Indian movies," Kumar said at the session that was briefly open to media.
The India-proposed cultural committee could include entertainment, Kumar added.
So far, there has been no response on the subject from China.
The chairman of China's National Development and Reform Commission, He Lifeng, and other officials were present at the economic dialogue.
Kumar cited the success in China of the Hindi film Dangal during his address.
The biopic of an Indian wrestler who trains his daughters to become world-class athletes in a conservative, small-town setting where women are mostly engaged in household activities, found favor with Chinese film critics and the box office alike. It was released in China in 2017.
Aamir Khan, the actor who plays the aging wrestler, has become the face of Bollywood in China. On China's Twitterlike Sina Weibo, Khan has a following of more than 1 million, and he now endorses phones made by the Guangdong-based company BBK Electronics.
But the commercial run of three other Hindi films this year-an estimated 1 billion yuan ($159 million) by two, with the third still screening at more than 193 million yuan-seems to have encouraged India's approach to the softer aspect of its relations with China.
Secret Superstar, which Khan co-produced, made around 746 million yuan, many times more than its India income, followed by 285.4 million yuan for the film Bajrangi Bhaijaan. The latter does not star Aamir Khan, nor does Hindi Medium, the latest Bollywood feature to reach China.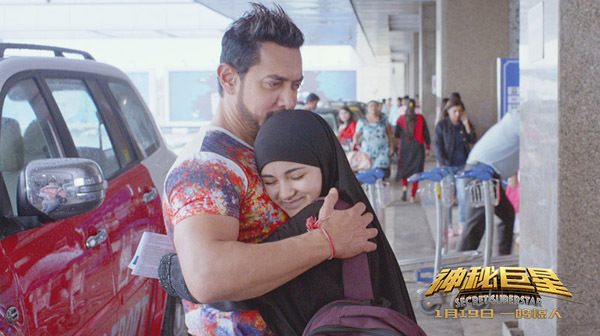 A poster of Hindi film Secret Superstar, which made some 746 million yuan in China. (Photo provided to China Daily)
Hindi films have started to resonate with Chinese moviegoers partly owing to the lack of convincing options at home across genres.
A common description of the trend on Chinese social media is: Bollywood sheds light on Indian realities but in an entertaining way.
Some trade analysts in China say the diversity of cinema signals a potential upward revision of the country's quota system, whereby 34 foreign films are allowed for general screening on the mainland each year on a revenue-sharing basis.
The foreign films get up to 25 percent of box-office earnings.
Although Hollywood continues to bag the maximum number under this system, Bollywood might challenge the order if its appeal in China grows.
But there is no indication of any change on the quota front from the government.
"Bollywood can also enter the Chinese market through the flat-fee structure," Tan Zheng, deputy editorial director of Dian Ying Yi Shu, a film magazine in Beijing, says of the other option for foreign films in China, where movie rights in the country are first bought by Chinese studios.
The coming weeks are expected to witness more official engagements between India and China, including a visit by Indian Prime Minister Narendra Modi to Qingdao in June, for the Shanghai Cooperation Organisation summit.