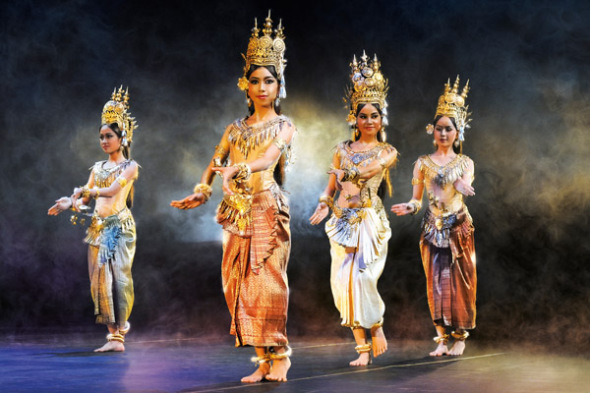 (Photo provided to Chinaculture.org/Courtesy of Hanel Alain)
Royal Ballet of Cambodia is expected to grace the stage in Beijing during the upcoming Meet in Beijing Arts Festival. It will also be part of the cultural events marking the 60th anniversary of China-Cambodia ties.
Meet in Beijing is an annual arts festival sponsored by the Ministry of Culture and Tourism, State Administration of Radio and Television and the Beijing municipal government. It's organized by China Arts and Entertainment Group and Beijing Municipal Bureau of Culture. This year, Meet in Beijing will attract nearly 800 Chinese and foreign artists from 19 countries and regions in the capital. From April 27 to May 31, they will bring 130 performances, three art exhibitions and a number of public art education activities in the city's major theaters and art centers.
The royal dance troupe will take center stage during the festival at the Tianqiao Performing Arts Center on April 28.
Princess Bopha Devi, daughter of late Cambodian king Norodom Sihanouk and director of the royal ballet, will lead her troupe to Beijing. The artists will bring authentic Cambodian dancing programs such as Cambodian Royal Dances and Cambodian Mask Dances. Cambodian singers will also sing two songs composed by Norodom Sihanouk: Missing China and China, My Second Hometown.
(Photo provided to Chinaculture.org/Courtesy of Hanel Alain)
Known for its graceful hand gestures and stunning costumes, the royal ballet of Cambodia is a form of performing arts established in the royal courts of Cambodia for entertainment and observances such as coronations, marriages and funerals. The cultural treasure has been inscribed on the Representative List of Intangible Cultural Heritage of Humanity by UNESCO.