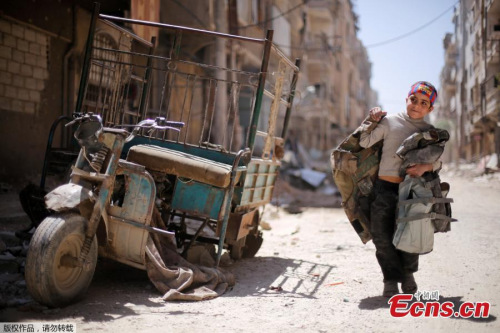 A boy walks along a damaged street at the city of Douma in Damascus, Syria, April 16, 2018. (Photo/Agencies)
In calls with British, Turkish leaders, president says rules established by the international community should apply
China has always opposed the easy use of force in international relations and the tension in Syria should be eased as soon as possible, President Xi Jinping said on Thursday.
Xi made the remark in phone calls with British Prime Minister Theresa May and Turkish President Recep Tayyip Erdogan.
The sovereignty and territorial integrity of all countries should be respected, Xi said, adding that the relevant sides should act in accordance with rules accepted by the international community while not escalating conflicts further.
The suspected use of chemical weapons in Syria should be investigated in a comprehensive and justified manner, Xi said.
China would like to work with parties concerned to resolve the Syrian issue properly, he said.
Xi also had a phone talk with Erdogan on Thursday. He said relevant sides should act under the framework of international laws, respect the principle of the UN Charter, respect all countries' independence and territorial integrity, Xi said.
Erdogan said Turkey attaches great importance to China's influence over the political resolution of the Syrian issue.
Noting that both China and Britain have benefited from economic globalization, Xi said that China would work together with all sides, including Britain, to support free trade, maintain the multilateral trade system and work toward open global economies.
Both China and Britain are permanent members of the United Nations Security Council, and the two countries should cooperate to make a greater contribution to building a new type of international relations and a community of shared future for mankind, Xi said.
May said that Britain supports free trade and open economies, as China does. She said Britain would like to keep communication with China open over relevant international and regional issues.
May spoke highly of China's new measures announced by Xi at the opening ceremony of the Boao Forum for Asia to boost its opening-up.
Britain would like to work with China to enhance exchanges at all levels, expand cooperation in all areas and explore joint efforts related to the Belt and Road Initiative, she said.