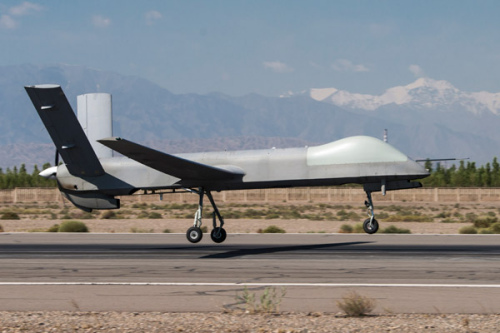 CH-4, developed by China Academy of Aerospace Aerodynamics in Beijing. (Photo/China Daily)
One of China's leading drone makers is developing unarmed versions of its military drones in order to enter an expected larger civilian market, China Daily reported Thursday.
Shi Wen, chief designer of the Caihong, or Rainbow, series at the China Academy of Aerospace Aerodynamics in Beijing, told the newspaper that the academy had decided to build unarmed versions of the combat drones CH-4 and CH-5 for civilian use.
These civilian versions will be able to carry out a wide range of operations, including land surveys, environmental inspections and maritime surveillance, said Shi.
"Compared with armed models, the civilian drones will have higher safety standards and lower production and operational costs," he said.
Advantages also include all-day usage, less maintenance and fuel, and safer flights in hazardous or inaccessible areas as they are unmanned models, Shi added.
China Academy of Aerospace Aerodynamics is the country's largest military drone exporter by the number of products sold overseas, and its CH series have been sold to more than 10 countries, according to the academy.