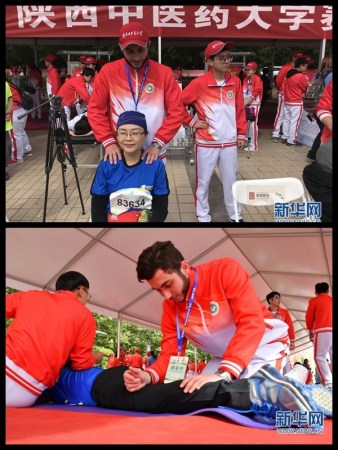 International faces seen performing massage in Beijing Half Marathon's after-running recovery therapy, April 16, 2018. /Xinhua Photo
Acupuncture is a common practice of traditional Chinese medicine (TCM), during which qualified practitioners insert fine needles in various points around the patient's body, stimulating sensory nerves and muscles to boost self-restoration. Recently, it has been brought back to people's view in the UK and US, and netizens across the world speak highly of this millennia-old treatment, again for its prominent effects on relieving pain, stress and other ailments.
British largest tabloid The Sun introduced the basic knowledge of acupuncture on its website last Tuesday, saying though with little scientific evidence, acupuncture has been used to treat a wide range of health conditions, especially dental, joint and postoperative pain.
The Sun also mentioned acupuncture's positive effect on helping fertility by citing a study published in the Journal of Clinical Acupuncture in 2016. The study found that the chance of pregnancy was increased to 43.3 % for women who received acupuncture therapy, while those who took medicine, it was 20%. This may account to acupuncture helping maintain hormonal balance.
It is not the TMC's first reach-out to the West. Back in 2004, US actress Gwyneth Paltrow was seen with "bruised circles" on the red carpet, which were actually left by cupping – another TMC's therapy in which heated cups are placed on the skin to create suction and can help with pain and inflammation. Some also call it a deep-tissue massage.
Like acupuncture, cupping has become popular among sportspeople and celebrities including US swimmer Michael Phelps, who was photographed with distinctive cupping marks in the Men's 4 x 100m Freestyle Relay Final at the 2016 Rio Olympics, actress Jennifer Aniston, and Canadian singer Justin Bieber.
In the just-concluded Beijing Half Marathon, international students who came to China to study TCM applied their massage, acupuncture and cupping skills and helped those runners to recover, which has won much admiration.
With more and more people around the world experiencing the benefits acupuncture and other TCM therapies can bring to their body, more TCM clinics are opened and becoming more approachable. A good example is Modern Acupuncture, a franchise in the US which opened its seventh place in February.
In modern era, TCM offers another solution for physical and mental health, and with promotion and education, it is expected to go much further.