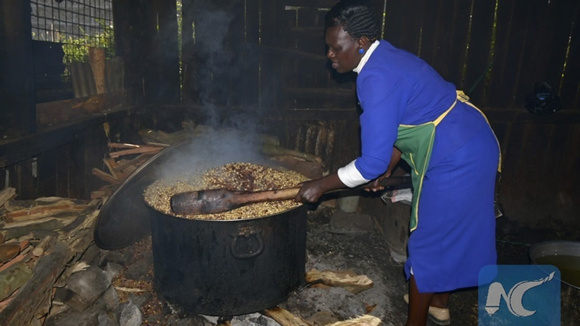 (Photo/Xinhua)
More than seven billion people, or 95 percent of the global population, are exposed to the lethal effects of air pollution, leading to 6.1 million premature deaths – half of which are in India and China – revealed an extensive global study.
The long-term exposure to outdoor and indoor air pollution has jointly contributed to a dramatic increase in deaths from stroke, heart attack, lung cancer, and chronic lung disease in developing countries. Coupled with a growing aging population, India and China are bearing the majority of the air pollution health burdens.
As a consequence, air pollution has become the fourth most common cause of death, exceeded only by high blood pressure, diet, and smoking, according to the Health Effects Institute's (HEI) annual report on air pollution.
The study, for the first time, includes estimates of the impact of exposure to the burning of solid fossil fuels in homes. A large number of rural and semi-urban households are still dependent on coal, dung cakes and firewood for cooking and heating.
In 2016, more than 2.5 billion people – one in three global citizens – were exposed to indoor air pollution emanating from the use of solid fuels.
"Air pollution takes a huge personal toll worldwide, making it difficult to breathe for those with respiratory disease, sending the young and old to the hospital, missing school and work, and contributing to early death," said Bob O'Keefe, Vice President of HEI.
Household air pollution is also becoming a significant factor in the health of outdoor air. Indoor pollution emitted to the outdoor atmosphere can raise the pollutant level.
Both indoor and outdoor pollutants have become the most significant cause of health impacts from among all sources in India. Data suggested that one in four air pollution-related deaths happens in India, and in China accounts for one in five similar deaths.
Both countries account for nearly 1.1 million premature deaths from outdoor air pollution in 2016. "China has made initial progress, beginning to achieve air pollution declines; in contrast, Pakistan, Bangladesh, and India have experienced the steepest increases in air pollution levels since 2010," researchers found.
"Nowhere is that risk more evident than in the developing world, where a third of the world's population faces a double burden of indoor and outdoor air pollution," Dan Greenbaum, President of HEI said.
HEI's annual assessment of air pollution exposure and its health burden is based on World Health Organization's air quality guidelines. "The Global Burden of Disease leads a growing worldwide consensus – among the WHO, World Bank, International Energy Agency and others – that air pollution poses a major global public health challenge," Greenbaum added.
Cities with its burgeoning population and massive infrastructure are believed to be worst affected by air pollution. Vehicular emissions along with fossil fuel guzzling power plants have been choking urban centers for decades. The HEI report highlights how poor regions dependent on solid fuel are equally susceptible to air pollution.
"The trends we report show real progress in some parts of the world – but serious challenges remain to eliminate this avoidable affliction," Bob O'Keefe said.