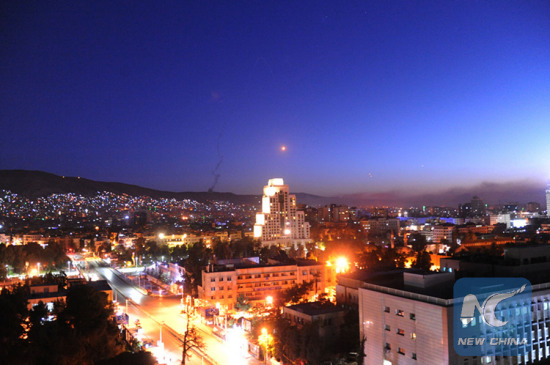 Surface-to-air missiles were seen in the sky over Syria's capital Damascus on April 14, 2018, as the Syrian air defenses were responding to the U.S.-led missile attack on Syria. (Xinhua/Ammar Safarjalani)
The reported overnight missile strikes on two airbases in central and southern Syria turned out to be a false alarm, as there was no attack on Syria, the state TV reported Tuesday.
Citing a military source, the state TV said a false alarm after midnight Tuesday triggered off the response by Syrian air defenses to the alleged attack, but later it turned out that there was no foreign attack on Syria.
After midnight, Syrian state media outlets and the War Media, the media wing of the Syrian army and its allies, reported that Syrian air defenses responded to a missile strike believed to be carried out by Israel.
The reports claimed that 6 missiles targeted the Shayrat airbase in the central province of Homs, but most of them were intercepted by Syrian air defenses.
They also reported that 3 other missiles targeted the Dumair airbase in Dumair area in the north of Damascus, but were also intercepted before reaching the targets.
The false alarm came as Syrian military has been on highest alert against further attacks following the joint airstrikes on Syria launched Saturday morning by the U.S., France and Britain over the allegations of the use of chemical weapons by Syrian government forces.
Syria has strongly rejected the allegations as fabrication by the rebels and Western countries to justify their attack on Syria.
Israeli warplanes launched a missile attack on the T-4 airbase in the eastern countryside of Homs on April 9, killing 14 soldiers, including Iranian fighters.