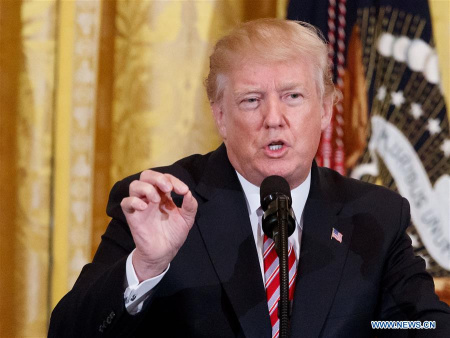 U.S. President Donald Trump (Xinhua file photo)
U.S. President Donald Trump said on Tuesday that the United States and the Democratic People's Republic of Korea (DPRK) have already started direct talks at "very high levels."
Trump made the remarks at his Mar-a-Lago resort in the U.S. state of Florida after his meeting with visiting Japanese Prime Minister Shinzo Abe.
"We have had direct talks at very high levels, extremely high levels" with the DPRK, Trump said.
He also told reporters that five sites were currently being weighed as the venue for a meeting between him and the DPRK's top leader Kim Jong Un, which has been planned to take place in May or early June.
When asked by reporters if any of the sites were located in the United States, Trump said "no."
Tension on the Korean Peninsula has thawed in recent months. Seoul and Pyongyang have agreed to hold a summit on April 27, the first meeting between the leaders of the two sides in 11 years.
"They do have my blessing to discuss the end to the war," said Trump before his meeting with Abe on Tuesday afternoon, referring to the upcoming inter-Korean summit.
The 1950-1953 Korean war ended in armistice. The Korean Peninsula remains technically in a state of war.
Abe was on a two-day working visit at Mar-a-Lago starting from Tuesday, during which he was supposed to discuss with Trump the denuclearization of the Korean Peninsula, bilateral trade and other issues.