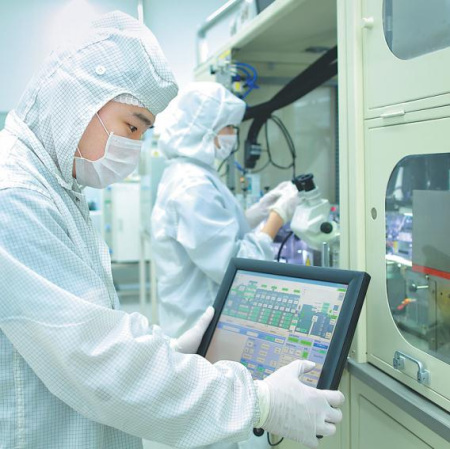 Engineers at work at the photoelectric semiconductor manufacturing base of Osram in Wuxi, Jiangsu province. (Photo provided to China Daily)
Gunnar Eberhardt drives customization of Osram's high-tech products for the domestic market
Osram's semiconductor-based technologies power products used in fields like virtual reality, autonomous driving and smart lighting solutions-all big themes in China. The country has emerged as "one of the most important markets" for the company for future growth and innovation, said Gunnar Eberhardt, president and CEO of the local arm of the Munich-headquartered multinational.
So important that in 2017, Osram's China business clocked sales of 837 million euros ($1.04 billion), up nearly 18 percent year-on-year, stronger than the market growth rate of 8 to 9 percent.
China now accounts for more than 20 percent of Osram's global annual turnover of 4 billion euros, and it is the second-largest market after the United States for the lighting business, Eberhardt said.
Osram has more than 5,000 employees in China, accounting for nearly one-fifth of its total workforce globally.
"We're not a lamp company per definition anymore, and we're a high-tech company. For us, China is an advanced and diverse marketplace, and the Made in China 2025 strategy has helped to create a lot of business opportunities.
"We're pretty confident that we'll continue our growth in China. Going forward, in the next few years, it'd also be my ambition to grow Osram faster here than in other markets," he said during an interview in Beijing.
As the Chinese economy gears up for slower but more sustainable growth driven by domestic consumption, it opens up more opportunities for multinationals like Osram, he said.
The company has four manufacturing sites in China. The one in Wuxi, Jiangsu province, produces products based on semiconductor technologies. Its size will be doubled by the year-end.
Two other plants are in Kunshan, Jiangsu province, and Foshan, Guangdong province, where Osram makes automotive lighting products. The Foshan plant's capacity is also being raised to meet growing demand for its products in China.
"For the automotive lighting area, this is also a significant manufacturing location for us to do export business, and the products made here are sold globally," Eberhardt said.
With five research and development centers in China, Osram plans to further increase its R&D footprint in the country and ensure that China plays an important role in the company's global R&D network, he said.
The company is innovating a number of products for the China market. For instance, it designed automotive lighting products that do not produce glare but help increase visibility on the road. This quality is suitable for road conditions in China.
On a personal note, Eberhardt regards moving to China as his most significant experience, given the size and the dynamics of the country.
He has held various leadership positions and risen through the ranks at Osram. He had worked in Germany and several emerging markets, including Latin America, the Middle East and Africa.
A native of Germany, Eberhardt loves Chinese martial arts. He has managed to take some time to learn the Chinese language and culture.
During his four years in China, the biggest value he has learnt is to always see the positives in things and be proactive.
"I'm an ambitious manager, and I try to improve things, make things successful and deliver growth. We know that we have to be innovative and enter new business fields that we aren't in yet," he said.
In 2015, the automotive industry experienced a downturn. He was instrumental in guiding Osram through the painful phase that lasted several months. He ensured the company reached out to new customers, built itself up in new markets and ramped up new innovations.
"Normally as a German, you become cautious and try to compare a tough situation with that in other countries ... Chinese people are bustling and open-minded. They just accept a tough situation as it is and try to find ways to work around it, and come out of the situation stronger. And this is what we did."
Eberhardt's family comprises his Italian wife, a 6-year-old son and a 4-year-old daughter, all of whom enjoy living in Shanghai, where Osram's country headquarters are based.
A frequent traveler, Eberhardt has visited numerous places across China. He said he likes the stunning, verdant landscapes of mountainous Guilin in the Guangxi autonomous region and cannot have enough of the sunshine of Hainan province.