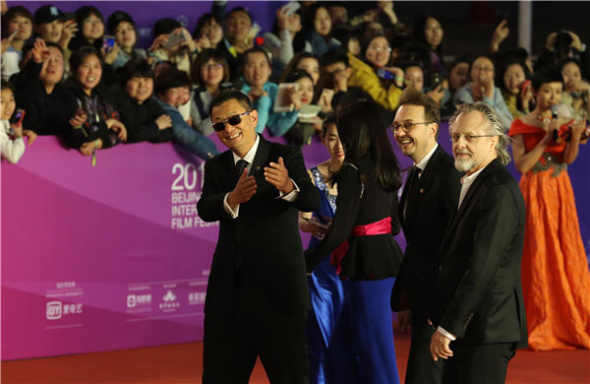 Some jury members of the Beijing International Film Festival make their debut on the red carpet on Sunday. (Photo by Jiang Dong/China Daily)
The eighth annual Beijing International Film Festival lifted its curtain on Sunday at Yanqi Lake International Convention and Exhibition Center, gathering a star-studded lineup on the red carpet.
The Tiantan Awards are the highest awards at the festival, which 659 films from 71 countries and regions have entered. Fifteen films have been selected as finalists and await the all-star jury's decision.
Hong Kong director Wong Kar-wai, a globally acclaimed flag-bearer of New Wave, is the head of the seven-person jury.
"No matter what genre the candidates belong to, be it a commercial or art-house production, they have to do well in storytelling," Wong said of the selection criteria. "We will evaluate those with original thoughts and creativity."