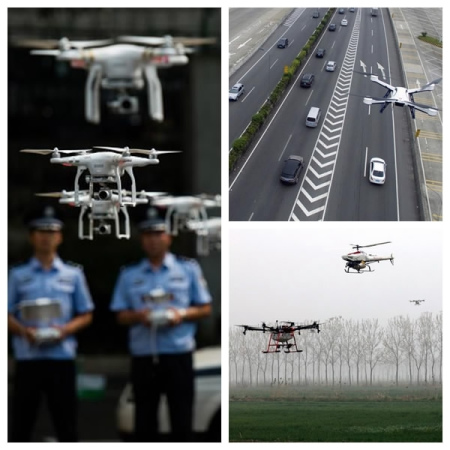 Unmanned aerial vehicles (UAVs) applied in various fields. /Xinhua Photo
New management regulations on the operations of civil drones will take effect on June 1, the Civil Aviation Administration of China (CAAC) has announced.
The regulations set out the application requirements and procedures for acquiring a business license and supervision measures for drones.
The CAAC said the rules will promote the secure, orderly and healthy development of the drone sector which has witnessed rapid growth in recent years.
Unmanned aerial vehicles (UAVs), or drones, have been applied in a wide range of fields including agriculture and forestry, electrical power supply, geographical mapping, environmental monitoring and film shooting, effectively replacing traditional aviation operations.
The soaring demand has spawned a batch of drone operating companies. However, they are said to have experienced difficulty in obtaining licenses.
Based on research and opinions from all sides, the CAAC released the regulations, making it easier for applicants to obtain licenses with lowered entry conditions and convenient online applications.
Operational activities including aerial spraying, filming and photography, performances and pilot training of drones weighing 250 grams or over are subject to the regulations, which do not cover those used for carrying passengers or cargo.
Applicants can apply for licenses via the CAAC UAV Real-name Registration System and fill in the basic information such as the legal body of the enterprise, the real-name registration number of the drone and so forth.
Four basic conditions for getting a business license are required.
First, the subject to carry out the operational activities should be an enterprise legal person, and the legal representative should be a Chinese citizen.
Second, the enterprise should have at least one drone and be registered under a real name in the system.
Also, the operator shall be covered by insurance against liability for third parties on the surface.
For conducting training activities, the operator shall also have the qualification recognized by the relative departments.
The regulations also set out the conditions that will lead to the revocation or cancelation of a license.
Regional CAAC administrations will be responsible for drone supervision within their domain.
(By Gao Yun)