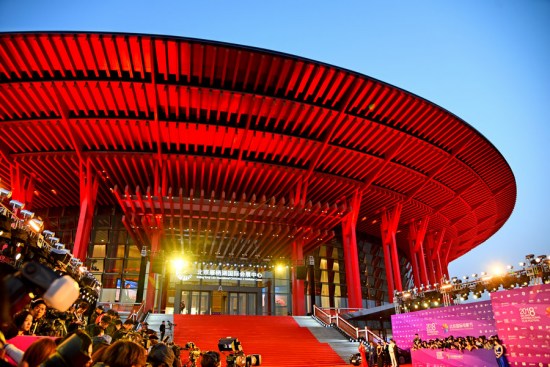 The opening ceremony of the 8th Beijing International Film Festival, April 15, 2018. [Photo by Zhang Xingjiang/chinadaily.com.cn]
The annual Beijing International Film Festival (BJIFF) kicks off on Sunday. With its influence expanding every year, more and more fans and outstanding filmmakers now take the opportunity to gather in Beijing.
How much do you know about this event, which positioned itself as being "international, professional, innovative and high-end, market-oriented?" Scroll down to check out some of the basic facts with CGTN.
Beijing International Film Festival
Founded in 2011, the Beijing International Film Festival is supported by the SARFT (State Administration of Radio, Film and Television) and the Beijing government.
Aimed at integrating domestic and international film resources, the festival is now a key cultural activity of Beijing and vibrant trading platform.
BJIFF 2018 consists of seven major sections: The Tiantan Award selection, the Opening Ceremony, Beijing Film Panorama, Theme Forum, Film Market, Film Carnival and Closing & Awards Ceremony, as well as various relevant activities.
The Tiantan Award
The Tiantan Award is based on the values of "Beauty in Variety, Harmony in Diversity," and invites masters of the craft to take part as judges. Now in its eighth year, the award has a great reputation and brand influence in the industry due to its international vision, standardized procedures, and professional level.
This year, there will be seven members of the jury, including one president and six judges.
The Competition Department received 659 entries from 71 countries and regions on six continents this year, with 15 films with varied themes and diverse genres ultimately shortlisted for the competition. There will be ten awards, including Best Feature Film, Best Director, Best Actor, Best Actress, Best Supporting Actor, Best Supporting Actress, Best Screenplay, Best Cinematography, Best Music and Best Visual Effects.
All awards will be announced at the Awards & Closing Ceremony of BJIFF 2018, and the winners will receive certificates and trophies.
Notable international guests
At the 2012 BJIFF, James Cameron unveiled the details of Avatar sequels, and Jim Gianopulos, Jeremy Renner, Tom DeSanto, Jon Landau were there to discuss co-productions between Hollywood and Chinese film studios.
At the 2013 BJIFF, Lucas film president Kathleen Kennedy, Paul Hanneman, Keanu Reeves, and Peter Chan attended the event.
At 2014 BJIFF, there was Jean Reno, Alfonso Cuaron, Paramount Pictures COO Frederick Huntsberry, Oliver Stone, MPAA president Christopher Dodd, Peter Del Vecho, Carlos Saldanha, John Woo. And the British Film Commission and BBC were also there looking for a closer co-production opportunity with China.
Arnold Schwarzenegger, and Darren Aronofsky attended the event in 2015.
The 2016 festival saw Natalie Portman and Christoph Waltz.
The opening ceremony gets underway Sunday night, stay tuned with CGTN for more updates.
( With input from bjiff.com.)