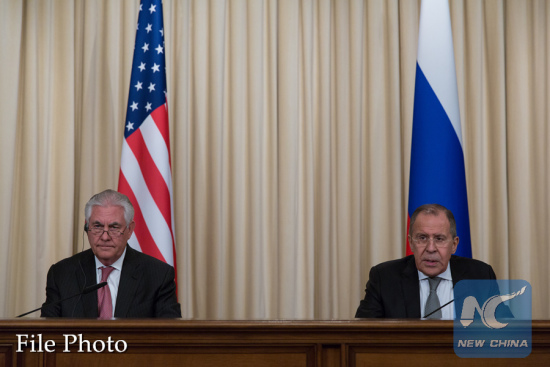 U.S. Secretary of State Rex Tillerson (L) and Russian Foreign Minister Sergei Lavrov attend a joint press conference in Moscow, Russia, on April 12, 2017. (Xinhua/Bai Xueqi)
Channels of communication between Russia and the U.S. allowing for a better understanding of what is going on are still open, Russian Deputy Foreign Minister Sergei Ryabkov said on Sunday.
"I don't know how the American colleagues interpret the word 'coordination'. Channels of communication and information exchange that make it possible to get a better picture of what is happening and, hopefully, to more accurately assess each other's plans, are still functioning," Ryabkov was quoted by Tass news agency as saying.
The United States, together with Britain and France, launched missile strikes on Syria on Saturday, saying that it was in response to an alleged chemical weapon attack by the Syrian military, although the Syrian government has categorically denied the accusation.
U.S. Ambassador to Russia Jon Huntsman said in a statement on the same day that Washington communicated with Moscow before taking action in order to reduce the danger of any civilian casualties and that it is still open for cooperation with the latter on the Syrian issue.
Nevertheless, Ryabkov said it would be rather difficult for Russia and the West to reach a consensus on a draft resolution of the United Nations Security Council as both sides have their own red lines.
"We will critically look at the proposals of the Western troika... It would be extremely difficult to reach any reasonable compromise or decision on this matter...We have to understand that we have well-known red lines," he said.
The UN Security Council on Saturday held an emergency meeting at Russia's request over the missile attack on Syria but failed to approve a Moscow-led resolution condemning the bombardment.