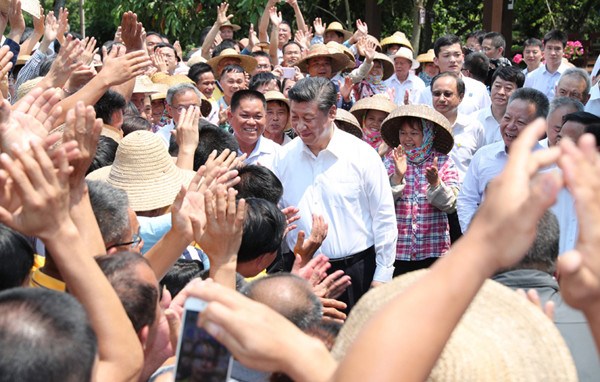 Chinese President Xi Jinping, also general secretary of the Communist Party of China Central Committee and chairman of the Central Military Commission, shakes hands with villagers in Shicha Village of Xiuying District in Haikou, south China's Hainan Province, April 13, 2018. Xi made an inspection tour in Hainan from Wednesday to Friday. (Xinhua/Xie Huanchi)
President unveils strategic role for province in China's further opening-up
President Xi Jinping has unveiled China's plan to build the whole of Hainan Island into a pilot international free-trade zone.
Xi announced the plan on Friday while attending a gathering to mark the 30th anniversary of the establishment of Hainan province and the Hainan Special Economic Zone in Haikou, the provincial capital.
The Communist Party of China Central Committee has decided to support the pilot zone's construction as well as Hainan's efforts to gradually explore building a free-trade port with Chinese characteristics.
It is a major decision that involves in-depth research and overall planning by the CPC Central Committee, and it underlines China's commitment to expanding opening-up and promoting economic globalization, Xi said.
China welcomes investors from around the world to invest in Hainan, actively participate in the construction of the Hainan free-trade port and share in the opportunities brought by China's development as well as the achievements brought by China's reform, he said.
The free-trade port in Hainan should live up to China's national conditions, reflect Hainan's definition of its own development, and draw lessons from advanced ways of managing international free-trade ports, the president said.
At the gathering, Xi unveiled the latest definition of Hainan's future role. It will be a pilot zone for comprehensively deepening reform and opening-up, a pilot zone for the country's ecological civilization, an international tourism and consumption center and a zone offering services and support for the country's major strategies.
Hainan should stay true to its mission, make good use of its new strategic position and continue to be a pioneer of reform and opening-up, Xi said.
He also announced plans to boost Hainan's development in specific areas, including service sectors, information technology, agriculture, scientific research and innovation, tourism, marine economy, ecology, education and talent.
The country supports Hainan's establishment of places for trading in such sectors as international energy, shipping, commodities, property rights and stock shares, Xi added.
Hainan should develop the new generation of information technology and digital economy and promote deep integration between the real economy and the internet, the internet of things, big data, satellite navigation and artificial intelligence, he said.
It is hoped that the province will not only become an innovative and strategic place for space science and technology, but will strengthen research of deep-sea science and technology and set up a demonstration zone for international offshore innovation and entrepreneurship, the president said.
In the tourism sector, the hope is for Hainan to establish more international flight routes and implement a more open and convenient duty-free shopping policy, he said, adding that China also aims to make the province home to the country's bases for tropical agricultural science and industry.
Hainan will be a pioneer in establishing a modern system for supervising ecological environment and resource conservation and will undertake the piloting of the national park system, building national parks that will include tropical rainforest, Xi said.
The country encourages key universities and research institutes at home and abroad to set up branches in Hainan, and encourages Hainan to introduce high-quality education resources from abroad, he added.
In addition, China supports Hainan's piloting of reforms for managing international talent, and international students who have obtained master's degree at Chinese universities will be allowed to work or start businesses in Hainan, Xi said.