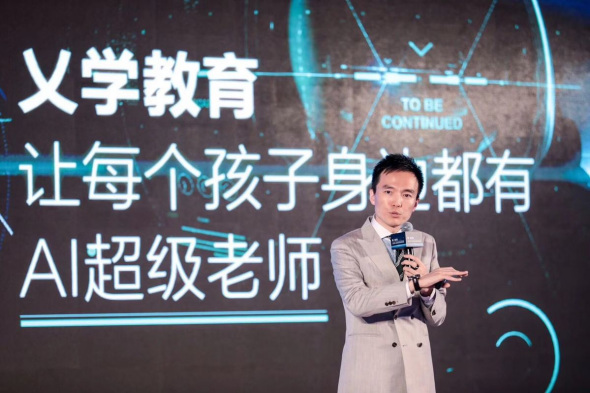 Li Haoyang, founder of Yixue Education, a Chinese education company focused on adaptive learning, delivers a speech on AI education in Beijing on April 11. (Photo provided to chinadaily.com.cn)
Adaptive learning is expected to become the next frontier of AI education and will revolutionize traditional ways of learning and teaching in China, industry experts said on Wednesday.
"Adaptive learning, enabled by artificial intelligence, builds a huge system based on big data to know students' exact weaknesses and helps them to improve," said Richard Tong, former senior implementation architect of Knewton, a US leading adaptive learning company.
He noted it's different from some AI education products in the market, as it is not a tool which only turns offline class teaching to online.
"It leverages advanced technologies to change from teacher-centered to student-centered to help students really improve their efficiency," he added.
He made the remarks at a global summit on intelligent adaptive learning co-held by Shanghai Yixue Education Technology Co Ltd, a Chinese education company focused on adaptive learning.
The company has developed an AI-enabled system to divide knowledge into small tailor-made chunks, so students can focus on their weaknesses instead of wasting time on what they have already mastered.
"We are now scrambling to divide knowledge points by learning abilities to help students not only grasp the knowledge point itself, but more importantly, the abilities that will indeed help them in the future," said Li Haoyang, founder of Yixue Education.
According to Li, the company is ramping up efforts to build a huge AI-enabled system in hopes of making a breakthrough globally in the segment.
Yixue's smart teaching has spawned success in China, with its paid users exceeding 100,000 across more than 20 provinces. The latest company data showed its total revenue surpassed 300 million yuan ($48 million) last year, 10 times that of the previous year.
The company has raised 270 million yuan from the country's two education giants TAL Education Group and New Oriental Education & Technology Group Inc, as well as the SIG Asia Investment Fund.
"When we invest in an AI education company, we pay attention to its ability to develop content, apply advanced technologies and operate educational services," said Wang Qiong, co-founder of SIG Asia Investment Fund. "It's these three factors that drove us to invest in Yixue Education."
"AI education is a promising field, as it doesn't use a traditional method and breaks current bottlenecks in the education segment," she added.
She added that compared with giants in the field, small education startups can focus on education business, which deserve more investment.