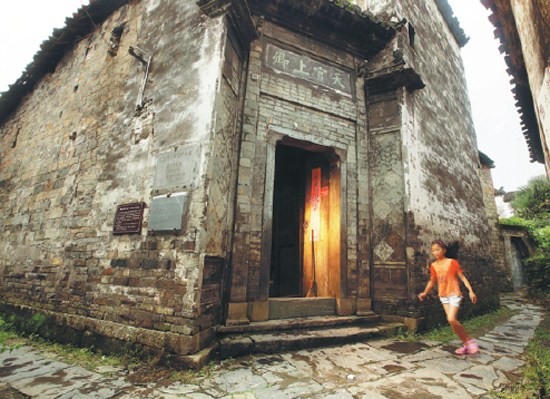 Likeng village in Wuyuan, Jiangxi province, is home to more than 120 historic buildings dating back to the Ming Dynasty (1368-1644). (Zhang Weiguo/Xinhua)
On a serene night, with a luminous moon gleaming above eastern China's Likeng village, 74-year-old Yu Jiajiu - perhaps the country's last traditional night watchman - sets out to work with his gong and mallet.
Yu has patrolled the village's streets, lined with historic wooden houses, for decades, sounding out the hours with his gong to remind villagers of the time and alerting them to fires and thefts.
He may now be the last night watchman performing dageng, a centuries-old time reporting service whose functions have gradually faded away.
It takes 90 minutes to walk the entire village, in Wuyuan county, Jiangxi province, which is home to more than 120 historic buildings dating back to the Ming Dynasty (1368-1644).
"I started learning dageng from my father at age 17," Yu said. "It has become part of my life. I feel uncomfortable if I don't hit the gong for a day."
There are rules a night watchman must follow. Yu must hit the gong with the mallet once at a crossroads and twice when he sees a suspicious person.
He must hit the gong twice at 9 pm, three times at midnight, and four times at 3 am.
Dageng has a history of more than 600 years in Yu's village. Traditionally, people measured time based on the position of the sun in the sky during the day, and relied on a night watchman to sound the hours at night.
With the advent of modern clocks and mobile phones, the night watchman's role as timekeeper has been replaced by numbers on a screen, and few villagers desire to be night watchmen now.
Due to Yu's age, the village allows him to work for three months a year, beginning on the first day of the 12th lunar month.
The village pays him around 1,000 yuan ($160) a month. In addition, he has a small plot of farmland to live on.
"I think the village still needs night watchmen," Yu said, recalling how he once woke up the villagers to put out a fire in a burning kitchen.
Yu Xinlong, the village's Party secretary, said villagers are used to the sound of the gong at night. "Some joke that they can't sleep well without the sounds," he said.
He said dageng is a folk custom handed down from the village ancestors, and has been significant in protecting the historic, Hui-style buildings from hazards such as fire.
With exquisite homes, ancestral halls and memorial archways, Hui-style buildings are mostly seen in the provinces of Anhui and Zhejiang.
The Wuyuan county government is trying to list the dageng tradition as intangible cultural heritage.
Yu Jiajiu's village is already a tourist attraction for its idyllic landscape, Hui-style buildings and its last night watchman.
He has two sons, but he said they do not want to be night watchmen due to the low salary and exhausting night shift.
Yu walks alone at night but does not get lonely. He said he just wants to live longer and do more.
"The weather is dry. Be careful of fire," he shouts above the sound of the gong as he disappears slowly into the night.