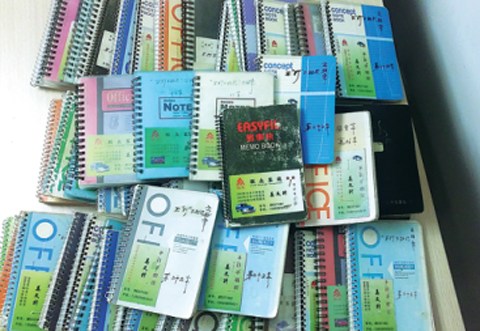 A collection of notebooks is shown in which passengers from around the world left their messages for taxi driver Jiang Wensheng. (Photo provided to China Daily)
A good taxi driver might expect the occasional compliment. But Tianjin cabbie Jiang Wensheng has received more than 4,200 in 16 years from Chinese and foreign fares.
One traveler from Hong Kong wrote: "I can highly recommend Mr Jiang as a trustworthy and very experienced driver. His friendliness is overwhelming!"
Jiang, 56, has accumulated 57 notebooks filled with such messages from travelers - in a variety of languages.
He has become a household name in Tianjin and a role model for China's taxi drivers, having been awarded laurels including the National May 1 Labor Medal, the country's top award for leading workers, and the top-ranked Excellent Communist Party Member award.
Jiang was laid off by a textile factory in 2002 and became a self-employed taxi driver registered with the Nankai branch of the Tianjin Lianzhong Taxi Service Center.
He treasures his work and lives by the motto: "Life is like a mirror. It will smile at you if you smile at it."
"If a traveler calls my car, I should give my smile and sincere heart to him or her," he said.
There's a moving story behind each message in his notebooks. Over the years, Jiang has voluntarily taken those in need to hospitals or schools without charge, including a senior citizen and his disabled son, who both needed to visit the hospital regularly.
The son died before the elderly man, who decided to move to another city. Jiang helped him to move the family and deal with every difficulty that cropped up.
The man's daughter burst into tears, saying: "My brother and mom have passed away. I have only one relative, my father. Now I am so moved to have another relative - that's Jiang."
Jiang also frequently meets foreign travelers and has had some interesting experiences.
He keeps a lot of travel information in different languages in his taxi, and once showed some travel brochures to a visitor from Japan as he pointed out historical sites during her trip. She was touched and wrote down some complimentary words in Japanese.
Jiang was eager to know what she meant, but her Chinese was not good and she just said: "You ... work much harder." Jiang thought she had written "you should work harder" and was disappointed.
He recently met another Japanese traveler who spoke fluent Chinese. When the taxi arrived at the traveler's destination, he asked what the woman had written. He was happy when he was told, "She said you 'work much harder than others, and are so conscientious that I am deeply touched'."
He is now writing a book about his career. He said it will feature his own encounters with travelers, and other heartwarming stories from fellow taxi drivers. It will also share tips on car maintenance.
Jiang has written 80,000 words so far and said the book is likely to be finished by August.