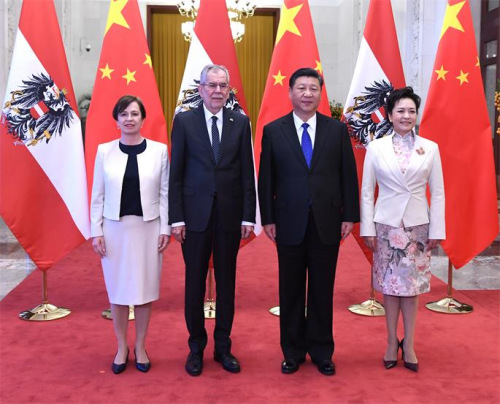 President Xi Jinping and his wife, Peng Liyuan, pose for a photo with Austrian President Alexander Van der Bellen and his wife, Doris Schmidauer, during a welcoming ceremony at the Great Hall of the People in Beijing on Sunday. (Photo/China Daily)
The top leaders of China and Austria agreed on Sunday to upgrade bilateral ties to a friendly strategic partnership as the European country sends an unprecedented official delegation to China.
President Xi Jinping noted in his talk with Austrian President Alexander Van der Bellen that the delegation includes Van der Bellen, Chancellor Sebastian Kurz and federal ministers.
Their visit marks the first of its kind in the history of bilateral exchanges and fully shows the president and his government value developing ties with China, Xi said.
On Monday, the visiting president will place a wreath at the Monument of the People's Heroes in Beijing, a move Xi said shows his great respect and friendship for the Chinese people.
Van der Bellen is paying his first state visit to China and also will attend the 2018 Boao Forum for Asia annual conference.
He told Xi that his country speaks highly of China's positive role in global affairs, such as tackling climate change, and Austria will further its cooperation with China in areas including trade, investment and clean energy.
After assuming office in December, the new Austrian cabinet has been working on developing relations with China and cooperating with the Belt and Road Initiative.
Xi has expressed China's endorsement of these efforts.
He has called for efforts to strengthen political guidance and top-level design over the ties, maintain the momentum of high-level exchanges and improve cooperation in the fields of judiciary, security, law-enforcement and anti-corruption.
Kurz, the chancellor, also attended the bilateral talks and said the visiting delegation, with such a high-ranking contingent, shows the enthusiasm of all walks of life in Austria in developing ties with China.
Xi said China appreciates Austria's open attitude to Chinese investment and will continue to boost its market opening and welcome more Austrian enterprises to invest in China.
Also, China welcomes the Austrian side to take part in the cooperation between China and Central and Eastern European countries, and is ready to boost the synergy of development strategies with Austria, Xi added.
This year marks the 15th anniversary of the establishment of the China-European Union comprehensive strategic part-nership.
Van der Bellen noted that his country will take presidency of the Council of the European Union this July and play a great role in boosting China-EU cooperation.
Xi said the European Union maintaining united, stable, open and prosperous ties are in line with China's interests, and China will not change its consistent position of supporting Europe's integration.
After their talks, the two top leaders witnessed the signing of documents covering areas such as the Belt and Road Initiative, judicial cooperation, innovation, logistics, transportation, culture, sports and intellectual property.