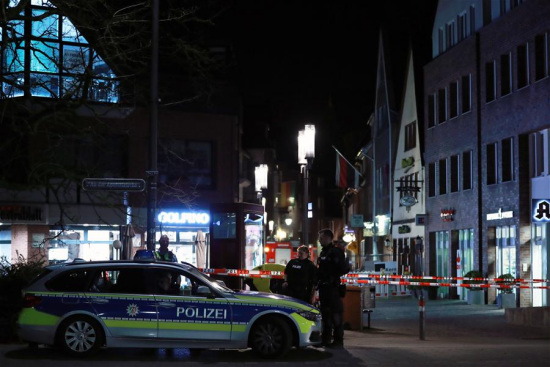 Police officers stand guard at the site of the vehicle plowing in Muenster, Germany, on April 7, 2018. (Xinhua/Luo Huanhuan)
Three people including the perpetrator died and a dozen more injured, after a van plowed into crowd in the old town of western German city of Muenster, interior minister of State North Rhine-Westphalia Herbert Reul told media Saturday night.
There have been no reports of casualties of Chinese nationals in this attack so far, the Chinese Consulate General in Dusseldorf told Xinhua.
A male driving a Volkswagen-Campingbus hit a group of people, who were sitting in an outdoor terrace of local restaurant in the old town of Muenster on Saturday afternoon, German newspaper FAZ reported.
The driver as perpetrator, who shot himself dead after the attack, was suspected to be psychologically disordered, German media reported.
Police were searching the driver's accommodation near the central railway station of Muenster, since a suspicious object had been found in the van.
German Chancellor Angela Merkel expressed her deep shock about the attack, saying in a statement that "everything imaginable is now being done to make sure of the fact and to support the victims and their relatives".
The motivation of the attack remained unclear, as the authority hadn't clarified whether the attack was terror-related or not.