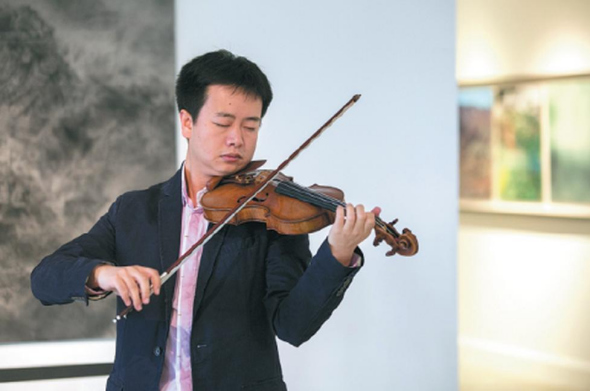 Beijing-based legal consultant and amateur violinist Zhang Maolun plays the Italian Carrassi violin owned by renowned Chinese violinist Liu Xiao, which is the target of a violin crowdfunding program launched by Zhang and his friend. (Photo provided to China Daily)
Exquisite, expensive violins increasingly popular among China's musicians, collectors
The value of "Strad" violins has never gone down.
So says Colin Maki, an American violin dealer who visited China last summer to meet a potential client in Shenzhen, Guangdong province, and spoke to an audience at Yale Beijing Center about how to appreciate the classical instruments not only as works of art, but as reliable financial investments.
The annual investment return of violins by the Italian Stradivari family is about 14 percent, according to data from Rare Violins of New York.
Most people might have only heard of the Stradivari violins by name or their exquisite sound during concerts held at first-tier cities, but never seen them with their own eyes.
That is because only a limited number of such high-end violins are well preserved. They have been owned and traded for years among a small number of investors around the globe, as exorbitant prices have pushed most people out of the market.
The violins made by the best violin makers in history - Stradivari, Guarneri del Gesu and Giovani Battista Guadagnini, cost as much as a fine Manhattan apartment.
Prices have surged as there is only a finite supply and limited access to these rare items of the violin family, with approximately 600 Stradivari instruments and 140 Guarneri del Gesu violins known to have survived today.
One of the most expensive recorded sales in recent years was a 273-year-old violin by Guarneri del Gesu, which was sold for more than $16 million.
Alongside the preservation of an art form that has been cherished throughout several centuries, wealthy investors have reaped significant high returns that have proven more stable than US bond yields.
"You can just hold the violin for years and see its price soar," Maki said.
Prior to operating an independent consultancy based in New York City, he served as sales manager for the firm of Carl Becker and Son in Chicago and as senior specialist for Tarisio Auctions.
Maki spent most of his time traveling to different parts of the world, meeting clients and presenting them fine, valuable instruments. It usually takes several months to close a deal.
Most of his clients are from Europe and the United States - the latter of which is the most mature market; according to Maki, the country has all kinds of services for clients including advisors, instrument authentication, grading and restoring. Such services can rarely be found in China.
Still, though few people among the audience at the Beijing public event were able to afford such fine violins, Maki feels the market here has great potential, and is worth cultivating. Maki's visit to China last summer was, in part, to bring four violins made during the 17th to 18th centuries by the best Italian violin makers to a potential client in Shenzhen.