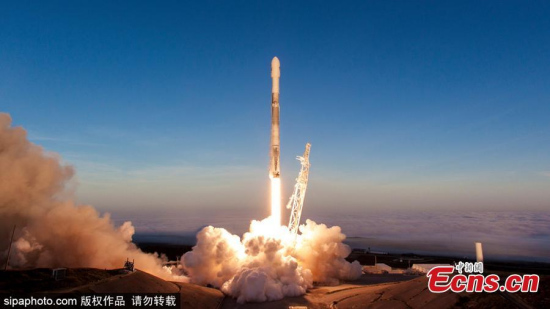 Elon Musk's SpaceX launches 10 new communications satellites into earth orbit on a reusable Falcon 9 rocket from the Vandenberg Air Force Base in Southern California, the United States, March 30, 2018. (Photo/Sipaphoto.com)
The United States space agency NASA's cargo provider SpaceX launched a Dragon spacecraft Monday afternoon, starting its resupply mission to the International Space Station.
The spacecraft, packed with 2,630 kilograms of research, crew supplies and hardware, was lifted off at 4:30 p.m. local times from Space Launch Complex 40 at Cape Canaveral Air Force Station in Florida.
About ten minutes later, the second stage engine has burnt completely and "Dragon confirmed in good orbit," according to SpaceX's official twitter account. Then, solar arrays have been deployed "right on schedule," NASA confirmed.
Grapple and berthing to the space station is targeted for Wednesday before the spacecraft spends approximately one month attached to the station, returning to Earth in May with some results of completed experiments, NASA says.
Flight Engineers Norishege Kanai of the Japan Aerospace Exploration Agency, backed up by NASA astronaut Scoot Tingle, will supervise the operation of the Canadarm2 robotic arm for Dragon's capture, according to the agency.
After the capture, ground commands will be sent from mission control in Houston for the station's arm to rotate and install it on the bottom of the station's Harmony module, NASA says.
This flight will deliver scientific investigations including a study on severe thunderstorms on Earth, on the effects of microgravity on production of high-performance products from metal powders, and food growth in space.
The spacecraft also carried cargo for testing effects of the harsh space environment on materials, coatings and components; identifying potential pathogens aboard the station and investigating an antibiotic-releasing wound patch.