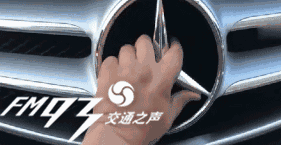 A person pops a Mercedes-Benz car badge out. /Zhejiang Traffic Radio Photo
A bizarre new craze seems emerging in some regions in China – stealing cars' emblems just for entertainment - in an imitation of a recent popular video on China's leading short-video platform Tik Tok. But there can be a price to pay.
A man surnamed Guo was arrested on Wednesday and charged with stealing dozens of Mercedes-Benz car badges in Yongkang in Zhejiang Province in an apparent attempt to gain more thumbs-up on Tik Tok, Zhejiang Traffic Radio reported.
In following up a call from an owner who lost his car logo, police found a surveillance camera recording of Guo driving a white vehicle and getting out. He stayed at the front of the Mercedes-Benz for seconds before driving off in his own car.
Officers tracked down Guo at his rental home and ferreted out dozens of car emblems.
The 25-year-old thief confessed that he had been recently obsessed with Tik Tok, yet could not attract others' attention. He got his idea after watching videos featuring people popping out Mercedes-Benz car logos that had garnered hundreds of thousands of likes.
The craze for logos could be attributed to a recent popular meme in China. A user sharing two pictures depicting people taking down a car badge and using it as a lunch box divided into three parts received more than 13,000 reposts, comments and likes.
Tik Tok has not responded to the matter yet, but the hashtag "stealing Benz car emblem" still exists on the platform. Videos of users imitating and making fun of the trending video have continuously been uploaded. Some videos were clearly of crimes being committed.
A Tik Tok user named @Mr.huang uploaded an imitative video, saying that "I'm super keen on Tik Tok, stealing a badge but not expected the whole part would be taken down. I grabbed it and ran away, what can I do? "
Another user @Samozhubushizhu shared photos of Benz car without badges, saying that "Tik Tok brings us happiness, but please don't play with the car badge anymore! My colleagues' two car badges were all stolen."
According to Chinese criminal law, stealing items with a total of 1,000 yuan or more can lead to a prison sentence of up to three years, Zhai Yaxing, a lawyer in Shijiangzhuang, was quoted by Xinhua as saying that a Benz car badge could be worth hundreds of yuan.
Launched in September 2016, Tik Tok has 32.5 million users and the number peaked at 62 million during this year's Chinese Spring Festival, according to a report by data service Jiguang.
The short video app quickly became the most popular user-generated content video app for Chinese young people, among whom 85 percent are under 24 years old, reported business technology media TechWeb.