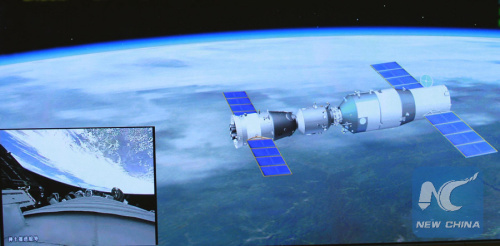 Photo taken on June 13, 2013 shows the screen at the Beijing Aerospace Control Center showing the Shenzhou X manned spacecraft conducting an automated docking with the orbiting Tiangong I space module and the view outside the propelling module of the Shenzhou X manned spacecraft (L, down). (Photo/Xinhua)
China's Tiangong I space lab is expected to re-enter the atmosphere between 8:11 and 9:33 a.m. over the South Atlantic Ocean, the China Manned Space Agency said in a latest statement published on its website early Monday morning.
The statement said that by 5 a.m. this morning, Tiangong I was travelling in an orbit with an average altitude of 138.8 kilometers above the ground. It said the agency predicts the re-entry will take place around 8:49 a.m., adding the process can move up to 8:11 am or postpone to 9:33 a.m.
The center of the re-entry zone is predicted at 19.4 degrees west longitude and 10.2 degrees south latitude, said the agency.
These figures put the location somewhere in the South Atlantic Ocean to the east of Brazil's coastal city of Recife.
The 8.5-metric-ton space lab, with a size similar to that of a school bus, was launched atop a Long March 2F carrier rocket at Jiuquan Satellite Launch Center in northwestern China in September 2011. With a designated life span of two years, the spacecraft was in service for four and a half years before its retirement was announced by the Chinese space authorities in March 2016.
During its operation, the space lab conducted six automatic and astronaut-controlled dockings with the nation's Shenzhou VIII, Shenzhou IX and Shenzhou X spacecraft.