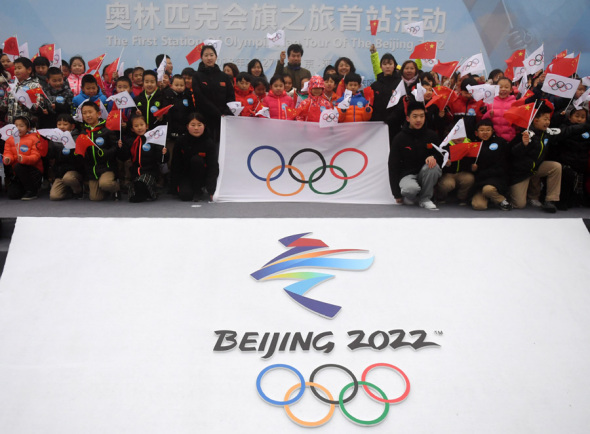 People take a photo with the Olympic flag at the Badaling section of the Great Wall on Feb 27, 2018. (Photo/Xinhua)
New deal with Citic Guo'an Group boosts hopes for 2022 Olympics
China's efforts to enhance its prowess in snow sports have been boosted by a new deal with Citic Guo'an Group.
China's nine-medal haul at the recent Pyeongchang Winter Olympics included four won on snow - two silver and a bronze in freestyle skiing aerials, and a silver in snowboard halfpipe.
Now with Citic Guo'an on board for the new Olympic cycle, China's winter sports governing body expects to deliver even better results at the 2022 Games in Beijing.
"The cooperation is part of the reform to involve more stakeholders from the business sector to develop athletic programs as part of a bigger picture with more resources and support," said Ding Dong, deputy director of the National Winter Sports Administrative Center, at Wednesday's launch of the partnership in Beijing.
"We will maintain this open approach to mobilize all resources available to improve our competitiveness, specifically in snow sports, for a better outcome in 2022."
Citic Guo'an, a Beijing-based conglomerate, announced at the launch that it was rewarding the aerials and halfpipe teams with 2 million yuan ($320,000) for their performances in Pyeongchang.
The company, a minority shareholder in top-flight soccer club Beijing Guo'an, pledged to continue funding the national program leading up to 2022 while tailoring marketing campaigns to promote athletes' profiles and boost their commercial value.
"We will leverage our strength to provide better training facilities and logistical services to support our elite athletes and also integrate winter sports businesses in our assets," said Li Jianyi, a Citic Guo'an board director.
China has implemented a series of bold reforms to improve on snow, including introducing more commercial partners, appointing retired athletes as association leaders and drafting talent from summer sports.
Team China competed in 55 of the 102 events in Pyeongchang but only pocketed one gold medal - Wu Dajing's victory in men's 500m short-track speed skating.
China has won 13 golds at the Winter Olympics since 1980, but still has only one gold on snow - claimed by skier Han Xiaopeng in the men's aerials at the 2006 Turin Games.
For the aerials and snowboard halfpipe teams, developing young talent is now the priority.
"I think I will continue to compete in 2022 as I still have so much fun riding my board in competitions, but our team's emphasis has been put on the younger riders," said Liu Jiayu, 25, who became China's first Olympic snowboard medalist when she snatched silver in the women's halfpipe in Pyeongchang.
"I've proved to the world that the Chinese can also shine in this foreign-dominated sport as long as we work at it. "I hope more youngsters will join me to further promote the culture and fun of snowboarding as not just a competitive event but a nice leisure activity for the public in winter."
Among the 14 snowboarders on the current national team, half are under 18 years old and more will be promoted from a pool of talent converted from other events such as gymnastics and martial arts, according to Li Yang, a team official.
"With an open system and support from new partners, we are embracing the best opportunity ever to drive the sport to new heights," said Li.