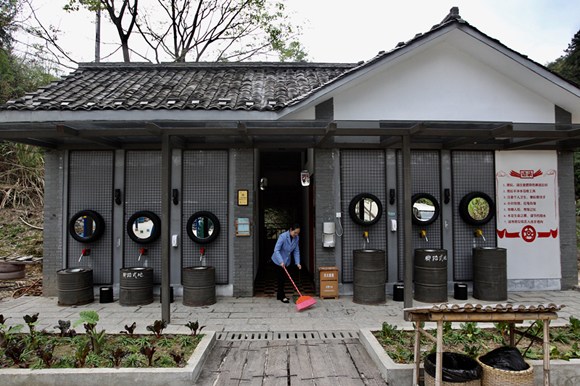 Restrooms with a number of themes, such as granaries and bars, have been built or renovated at Yashan Mountain scenic spot in southwest Jiangxi province. (Photo By Zhang Wei / China Daily)
Improvements to rural facilities are aimed at improving health standards, boosting tourism and raising incomes.
China's "toilet revolution" has moved up a gear with the news that the emphasis will shift from management of restrooms at tourist attractions to improving conditions in facilities in rural areas via the use of technology, said Li Jinzao, vice-minister of culture and tourism.
However, he stressed that providing visitors with the best travel experiences will remain a priority and the quality of tourist restrooms will be an important factor when attractions, resorts and hotels are assessed and rated.
The campaign to improve China's toilets, which highlights modern standards of hygiene and cleanliness, was launched in 2015 by the China National Tourism Administration, which was merged into the newly established Ministry of Culture and Tourism this month.
More than 24,000 restrooms designed to high sanitary standards will be built this year, according to a three-year plan released by the administration in December that will see about 60,000 restrooms built or renovated by the end of 2020. More than 87,000 newly built or renovated restrooms have opened at tourist attractions in the past three years.
Renovation
Since the campaign began, it has received more than 1 billion yuan ($160 million) from the Ministry of Finance, while provincial authorities and businesses have invested more than 20 billion yuan.
Li, who was the head of then National Tourism Administration, said that while renovation of the sanitation infrastructure may seem negligible to individuals, the campaign addresses fundamental issues for visitors and will have a beneficial impact on people's health across the country.
Moreover, improvements in rural sanitation will also boost tourism and raise incomes for impoverished villagers.