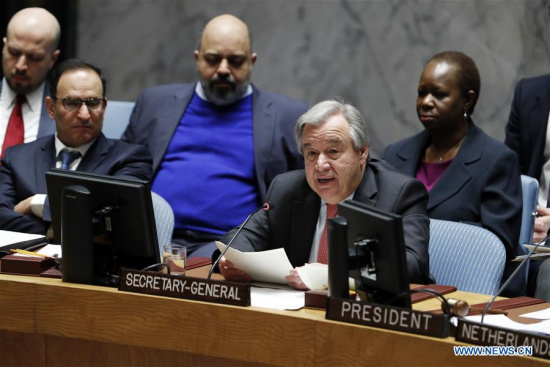 UN Secretary-General Antonio Guterres (R, Front) addresses a UN Security Council high-level debate on peacekeeping at the UN headquarters in New York, on March 28, 2018. UN Secretary-General Antonio Guterres on Wednesday called for strong collective action to deal with the serious challenges to the UN peacekeeping. (Xinhua/Li Muzi)
UN Secretary-General Antonio Guterres on Wednesday called for strong collective action to deal with the serious challenges to UN peacekeeping.
UN peacekeeping faces serious challenges, particularly in four of its largest deployments: Mali, the Democratic Republic of Congo, the Central African Republic, and South Sudan, Guterres told the Security Council in a high-level debate on peacekeeping.
"UN peacekeeping missions now operate in far more dangerous, complex and high-risk environments. They are under threat from armed groups, criminals and terrorists, who have access to powerful modern weapons," he said. "UN peacekeepers are often under-equipped, under-prepared and unready for the dangerous environments in which they now operate. There are gaps in command and control, in culture, in equipment and in training."
UN peacekeepers are vulnerable and are targeted for attack, said Guterres. Last year, 59 UN peacekeepers were killed in malicious acts, a sharp increase from 2016, when the figure was 34.
"We are damaging the instrument of peacekeeping, and indeed multilateralism itself, in creating unrealistic expectations. Lives and credibility are being lost," he said. "These challenges require strong, collective action."
He asked to refocus peacekeeping with realistic expectations; to make peacekeeping missions stronger and safer; and to mobilize greater support for political solutions and for well-structured, well-equipped, well-trained forces.
The United Nations is working to improve the safety and security of peacekeepers, he said. "We have already started to implement measures to improve the preparedness and response of missions at high risk by strengthening training, reviewing medical support, and addressing performance issues."
The world body is conducting independent reviews of the peacekeeping missions in a bid to refine their priorities and configuration, while assessing the viability of mandates and political processes. The goal is to ensure that the peacekeepers are well-trained, well-equipped and better postured for challenges and threats. "Too often in the past, our troops have been reduced to waiting in a defensive posture, giving hostile forces time and space to plan attacks," he said.
Guterres said he has launched a new approach to sexual exploitation and abuse by peacekeepers so that victims have a clear way to report allegations, and the United Nations can work with troop- and police-contributing countries to address the allegations, end impunity and prevent future cases.
He stressed that efforts on the side of the United Nations, although critical, are not enough to meet the challenges. "Our chances of success increase dramatically when we work together with member states and share burdens, risks and responsibilities. We urgently need a quantum leap in collective engagement."
Guterres said he is launching a new initiative called Action for Peacekeeping in a bid to mobilize all partners and stakeholders to support UN peacekeeping.
He asked the Security Council to sharpen and streamline mandates for peacekeeping missions. "Please put an end to mandates that look like Christmas trees."
"By attempting too much, we dilute our efforts and weaken our impact," said the UN chief.
He called on member states to sustain political engagement and push for political solutions and inclusive peace processes, including through bilateral diplomacy and sanctions if necessary.
A peacekeeping operation is not an army, or a counter-terrorist force, or a humanitarian agency. It is a tool to create the space for a nationally owned political solution, he said. "Put simply, peace operations cannot succeed if they are deployed instead of a political solution, rather than in support of one."
He also asked member states to build and strengthen partnerships with regional organizations, such as the African Union.
Political partnerships are indispensable, especially when a UN mission is deployed to support a peace process facilitated by other actors, he said.
He called on member states to provide the missions with human and financial resources that are in line with their mandates.
The lack of required equipment seriously undermine the full effectiveness of peacekeepers, their ability to prevent conflict and confront hostile forces, he said.
Guterres asked host countries to give their full consent to, and to cooperate actively with peacekeeping operations. "This includes bringing to justice the perpetrators of attacks against peacekeepers and removing the impediments to full freedom of movement."
For peacekeeping operations to succeed, the parties to the conflict must want peace and actively participate in a political process, he added.
When the will of the host countries weakens, the UN member states must, under the leadership of the Security Council, use all the incentives and all their influence to revive the peace process, he said.