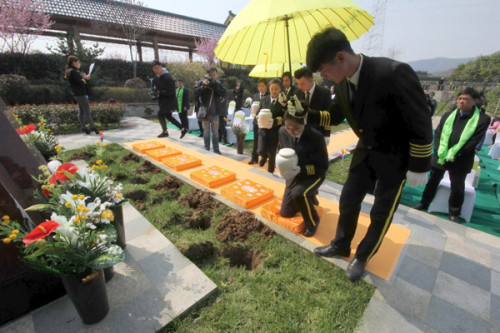 The ashes of six people, in degradable urns, are placed into holes for burial during a group green funeral at the Yinlongshan Cemetery in Nanjing, Jiangsu Province, last week. (Photo by SONG NING/FOR CHINA DAILY)
Financial incentives, more facilities introduced as mindset slowly shifts
Gao Yihuan is only 27 but she's already decided how she wants to be buried after she dies.
"I want to have my ashes scattered at sea, or some other environmentally friendly method of burial," said Gao, who is from Xiamen, Fujian province. "Cemeteries are depressing. I'd rather be closer to nature."
Chinese are increasingly choosing so-called green funerals, such as burial at sea or having their ashes scattered or buried near trees. The trend is being fueled by government efforts to encourage more people to abandon the traditional practice of interring ashes in the ground or in a tomb, which takes up considerable land.
In Beijing alone, eco-friendly funerals accounted for 44 percent of all burials last year, with 3 percent being burials at sea, according to the capital's Civil Affairs Bureau.
The Ministry of Civil Affairs issued a guideline this month that set a national goal to have green ceremonies make up 50 percent of the annual total by 2020.
"Ecological methods that occupy less or no land, consume fewer resources and use degradable materials will be greatly promoted," the guideline said.
Independent research shows a pressing need to convince more people to abandon the traditional methods and save space.
China is adding about 3 million burial plots a year nationwide. Yet Ouzi, an industry analysis and data service company, estimates that all available spots will be occupied by mid-2022, roughly 18 months earlier than predicted in a 2014 report by the ministry.
Last year, the country had about 64.7 million plots, and 42.2 million of those were occupied, according to Ouzi.
However, the promotion of green funerals is not easy because Chinese tend to stick to traditional ways-burial in a tomb-to show filial piety and respect to their ancestors, said Sun Shuren, secretary-general of China Funeral Association.
"The most frequent green funeral people adopt now is storing ashes in cells-storing the urns in the boxes of a special room in a funeral home with cheap rent," he said, "which is also the method the country is promoting now and which saves a lot space.
"Right now, not keeping the ashes-including burying the ashes while planting a tree as a memorial, or a sea burial-is being adopted by quite a few in the country," Sun said. "It takes a long time to transition from traditional tomb burial to abandoning tombs or even no longer keeping the ashes all. It requires a change in deep-rooted thoughts."
To encourage more people to accept new burial methods, the country will construct more green facilities, under the ministry's guideline.
A financial incentive will be introduced: paying money monthly to people who choose sea burial. That system was put into place on Jan 1 in Wenling, Zhejiang province.
Under the policy, people over 70 in Wenling who sign a contract for sea burial will receive monthly remuneration based on age-from 100 yuan ($15.80) per month for those over 70, to 400 yuan for people over 100, according to local civil affairs authorities.
A previous policy, issued in 2004, offered 2,000 yuan for a family that chose sea burial.