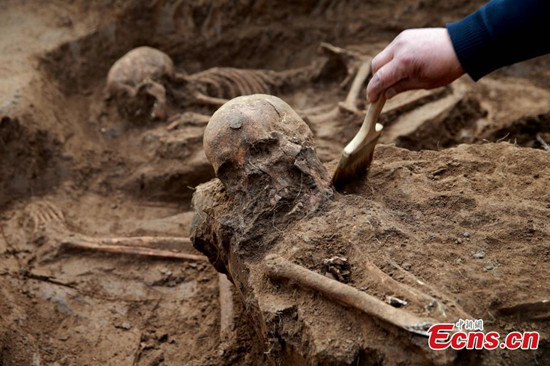 Photo taken on March 21, 2018 shows excavation at a ruin from the Eastern Zhou Dynasty (770-256 B.C.) in Zhangqiu District, Jinan City, East China's Shandong Province. The discovery of human remains in the ruin shows people were still used as burial sacrifices in the Qi State of the Eastern Zhou Dynasty, according to Jinan's Institute of Archeology. (Photo: China News Service/Liang ben)
Archaeologists discovered bones in four pits at a ruins site in east China's Shandong Province, which are believed to be remains of human sacrifices, local authorities said Friday.
The bones were found in the sacrificial pits of a ruins dating back to the Eastern Zhou Dynasty (770-256 BC) in Jinan, according to the city's archaeological research institute.
Human sacrifice was the act of killing people, usually as an offering to ancestors, deities or nature, in primitive and slavery-based societies, according to He Li, head of the excavation team.
The Eastern Zhou Dynasty was a transition period from slavery to feudal society. "Such practices should have been rare at that time, but the new discovery proves that they still existed in the Shandong area," He said.
In addition to human bones, animal offerings were also found in the pits, including two relatively complete pig skeletons and a cattle skeleton.
"People living in this area may have had a high social status," said He, adding that these new findings can shed light on the sacrificial customs in the Eastern Zhou Dynasty.
The ruins, covering around 600 square meters, consist of workshops and residences as well as the sacrificial pits. More than 130 artifacts including bone, stone, and ceramic items have been excavated so far.