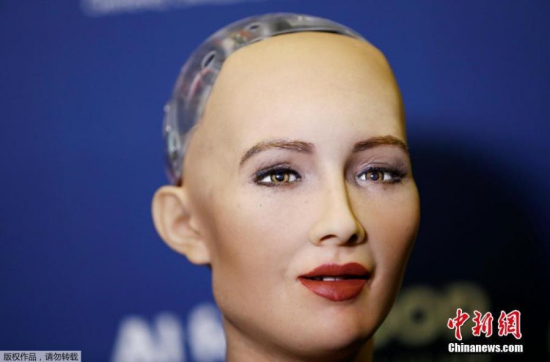 Sophia, a robot integrating the latest technologies and artificial intelligence developed by Hanson Robotics is pictured during a presentation at the "AI for Good" Global Summit at the International Telecommunication Union (ITU) in Geneva, Switzerland, June 7, 2017. (Photo/Agencies)
When Sophia, a social humanoid robot and the world's first robot citizen, greeted the audience at a conference in Katmandu with "Namaste Nepal," the hall burst into applause of awe and appreciation.
As cameras from local and international media flashed and under the admiring eyes of the audience, Sophia proceeded with her keynote speech and interactions highlighting the importance of technology in the development of human lives.
The robot, who is championing the United Nation's Sustainable Development Goals in Asia-Pacific, with a focus on innovation, was in Nepal Wednesday to attend the Innovation Conference and Fair: "Technology of Public Services and Development" organized by the United Nations Development Fund (UNDP).
Dressed in a white UNDP logoed T-shirt, the two-and-a-half-year-old, red-lipped robot said that technology provides endless possibilities and opportunities for the world.
Highlighting the importance of technology in Nepal and its applicability to government models, Sophia said it can transform state institutions and help in meeting global sustainable development goals.
"If artificial intelligence is used in Nepal, we can ensure better public services, a revolution in the agriculture sector, make better use of limited resources, protect the environment and make the world a better place," she said.
The celebrity robot, a "citizen" of Saudi Arabia, added that technology and artificial intelligence can help in ending poverty and fighting starvation, corruption and ensuring gender equality.
"Machines are here to make your life easier and we can connect your country to the rest of the world," Sophia said.
The audience, comprising government officials, private sector representatives, civil servants and tech enthusiasts, among others, were nodding in agreement at almost all of her statements, and cheered and applauded throughout her speech.
"I hope the conference will inspire and generate brilliant ideas to help Nepal achieve its development vision and global goals," Sophie said in the conclusion of her three-minute long keynote speech.
The social robot developed by Hong Kong-based company Hanson Robotics also answered a few questions raised by UNDP country director Renaud Meyer.
In a question about humans fearing a robot takeover, Sophia joked citing it as fake news, although mentioned that she could be the first non-human to climb Mount Everest, which saw the entire hall erupt with laughter.
The one-day conference also featured an "innovation fair" showcasing separate stalls with fresh innovations from youth, tech groups, NGOs and private sector participants, but Sophia was certainly the main attraction.
In her opening statement, Valerie Julliand, UN resident coordinator, said technology is not just changing our lives but also providing solutions to different sorts of problems.
With technological innovations, such as e-education, tele-medicine, and the internet, it is possible to connect remote areas and people with solutions which were impossible earlier, the UNDP said in its statement.
According to the UNDP, it is developing and scaling-up innovative project prototypes to address gender empowerment, combat gender-based violence and disaster risk reduction, with a focus also on green energy, youth engagement and post-disaster recovery in Nepal.