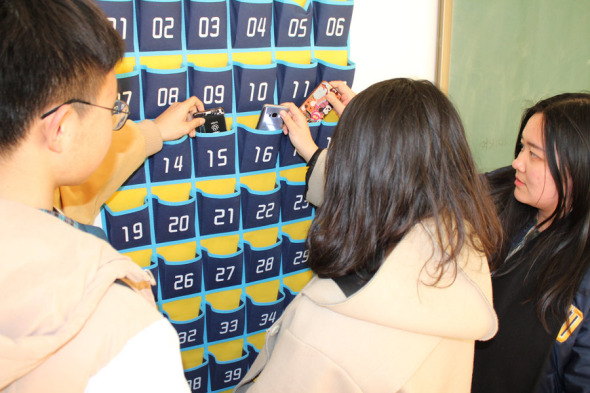 Students put their mobile phones in the bags in the front of the classroom. (Photo provided to chinadaily.com.cn)
Since 2014, Jilin Huaqiao University of Foreign Languages began to propose that students attend class without their mobile phones.
Till now, there are nearly 300 classes that have achieved the goal of no mobile phones in the classroom.
Before class, all the students can conscientiously remember to put their mobile phones in the bags in the front of the classroom and get back them after class.
"In the past, some students often played their phones and couldn't pay all their attention to the teachers," said Wang Zhiguo, dean of the College of Eastern Language. "Now, study without the phones has become a habit for the students in our college and the learning atmosphere has become better and better."
"Furthermore, the students get used to putting their phones in the bags even in the class meetings," he added.
"In the class, we can find fewer students lower their heads and more students listen to the teachers and take notes carefully," said Yu Pengcheng, a junior student. "We can also have more communication during breaks. I believe that we can make greater progress in such classes."
At the same time, there are also several universities in Changchun, the capital of Jilin province, that have promoted such a measure to ask their students keep their mobile phones out of the classroom, such as Changchun University and Changchun University of Science and Technology.