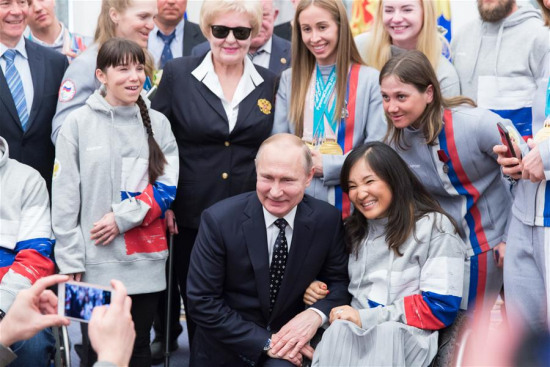 Russian President Vladimir Putin (bottom C) poses with prizewinners of the Pyeongchang 2018 Winter Paralympics during an awarding ceremony in Moscow, Russia, on March 20, 2018. (Xinhua/Bai Xueqi)
Russia will hold special competitions this year for the athletes who were not allowed to participate in the 2018 Winter Paralympic Games in South Korea, Russian President Vladimir Putin said on Tuesday.
"We will do everything to support these courageous, honest people, so that their talents and perseverance continue to give hope to all those who found themselves in a difficult life situation, including a series of competitions with a special status for the Paralympic athletes this year," Putin said.
"The prize money for winning will be comparable with the payments to the medalists of the Winter Paralympic Games in PyeongChang," he said at a ceremony giving state awards to Russian medalists in the South Korean event.
The Russian Paralympic team, which participated in the games as the Neutral Paralympic Athletes, finished second after the United States, winning eight gold, 10 silver and six bronze medals.
Russian athletes were banned from competing under their national flag for an alleged state-sponsored doping scandal.
In 2016, the International Paralympic Committee decided to bar the whole Russian Paralympic team from taking part in the 2016 Summer Paralympics for the same reason.
Russia held alternative competitions in 2016 for the barred athletes, giving the winners awards equal to those promised at the Rio Games.