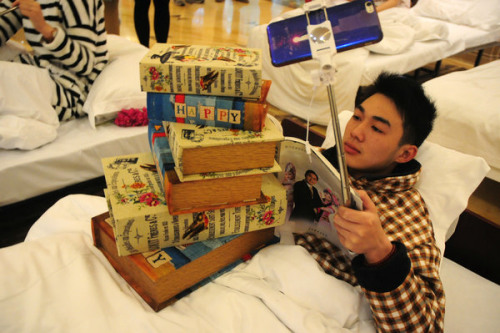 Before the World Sleep Day in 2017, young customers live broadcast their pre-bedtime entertainments and sleep at a hotel lobby in a sleep awareness campaign organized by a hotel in Hangzhou, Zhejiang Province. (YI PENG/FOR CHINA DAILY)
While people try various products and services to help them get better sleep, they most likely ignore a key remedy - their biological clocks.
A recent survey shows that online shopping, chatting on social media and enjoying videos form the most popular pre-bedtime entertainment, on which people spend an average of 65 minutes daily.
"These activities cause longtime excitement of the cranial nerves, and in turn cause sleep difficulties," says Gao Xuemei, the vice-chairman of the Chinese Sleep Research Society, which released the survey.
The survey, released at a news conference on March 17, was jointly conducted by the society and De Rucci, a Chinese corporation dedicated to improving lifestyles and sleep, and was based on big data from more than 515 million Chinese internet users collected over a period of two years.
Speaking about the survey's findings, Gao says that between 10 pm and 11 pm, which is supposed to be an ideal time to go to bed, is both the peak hour for online shopping and watching short videos.
Chen Yannan, who recently graduated from university, habitually chats with friends or watches videos for an hour or so before sleeping.
"Often, before I am aware, it is already late. And sometimes I get so excited that I cannot sleep well," says the 22-year-old from Quanzhou, in Fujian province.
Chen adds that she now finds it difficult to change her habits. "Sometimes, even though I force myself to go to bed early, I cannot fall asleep until it is 2 or 3 am," she says.
Chen also says that she expects the situation to get worse as she plans to look for a job. And she admits that she's kind of anxious and lost, and believes that this has also affected her sleep.
Speaking about the problems she faces, Chen says that she suffered from insomnia for about one month, and it had obvious health consequences, including an inability to focus during the day.
Meanwhile, the survey shows that more than 80 percent of those surveyed pay attention to their sleep quality, and pressure at work remains the major factor affecting it.
More than half of those surveyed say they sacrificed sleep hours to complete work assignments.
The survey also showed that those in "high-tension" sectors such as finance, suffered from more sleep problems.
Gao's society - founded in 1994 by the China Association for Science and Technology - also says the China theme for World Sleep Day (March 21) is "Keep Good Hours, Get Healthy Sleep".
The society is a key academic organization which has annually organized activities on sleep over the past 18 years. And this year, a large-scale nationwide educational campaign on sleep was launched at the news conference.
Han Fang, chairman of the society, says: "Sleep is important for us humans, and we want to encourage people to form good rest habits to improve their sleep quality and health."
He adds that as the pace of life gets faster and electronic devices affect people's bedtime routines, the importance of keeping a regular bedtime should be emphasized.
Sun Hongqiang, the director of the department of sleep science at Peking University's Sixth Hospital, also stresses the importance of regular sleep hours.
"Sleep is a basic physiological phenomenon for humans. A person spends about one-third of his or her life sleeping. Sleep is the result of long biological evolution and synchronization between the natural law of day and night as well as the biological rhythm of the human body," says Sun, adding that lack of sleep can have an effect on cognitive functions, such as memory.
Sun also says that "counting sheep" does not work for longtime insomnia sufferers, who have to change their bedtime habits, and try to calm themselves down in bed by listening to their own breathing.
Gao says that young people are less likely to stick to healthy sleep hours. And the research also shows that while noise has become an important factor affecting people's sleep quality, eye masks, earplugs, and foot patches are being bought online by people to deal with sleep difficulties.
"These items sell really well on Taobao," says Gao.