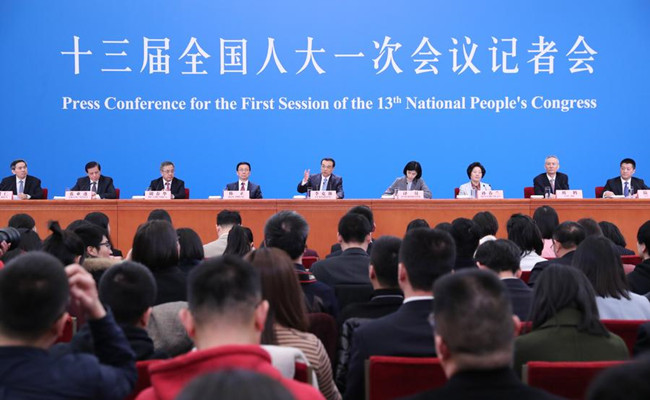 Premier Li Keqiang answers questions of reporters at a news conference for the first session of the 13th National People's Congress in Beijing on March 20, 2018. (Photo/Xinhua)
Premier Li Keqiang meets reporters from home and abroad at a news conference on March 20 at the end of the annual meeting of the National People's Congress. Here are highlights of the event. [Special Coverage]
China will continue opening up
China will open even wider to imports and investment, fully opening the manufacturing sector to foreign competitors and cutting tariffs on more imports.
The Chinese economy is integrated into the global economy, and closing doors would only block China's own way. More
Optimizing the business environment
China will continue to optimize the business environment, and make it easier for people to access government services.
Korean Peninsula issue
China welcomes the recent de-escalation of tensions on the Korean peninsula, and China supports all efforts that will help resolve the nuclear issue through dialogue and consultation.
China will continue to do its best to push for the peninsula's denuclearization and secure peace and stability there. More
China committed to property rights
China will pay great attention to protecting property rights of all business entities, whether State-owned enterprises or private businesses. More
China will not seek expansion
China will not seek expansion, as it is a developing country with no expansionary intentions - even if it grows stronger in the future.
The nation will not follow older logic that a strong country is bound to seek hegemony. More
China-U.S. relations
There will be no winner in a trade war should it happen between China and the United States.
China confident it can forestall risk
China is capable of preventing systemic financial risks given the country's sound and stable economic growth. More
China-Russia relations
There is still potential in China-Russia trade. China aims to lift China-Russia trade to 100 billion U.S. dollars this year. Stable and amicable relations between China and Russia is of interest to the world.
China opposes attempts for 'Taiwan independence'
China will not tolerate the attempt of any external force to use Taiwan as a card to cause difficulties for cross-Straits relations.
Beijing is ready to have dialogues and consultation with all political parties and groups in Taiwan who adhere to the one-China principle to discuss all issues that concern people on both sides and work for peaceful development of cross-Straits relations to eventually achieve China's peaceful reunification. More
Serious disease insurance to cover 20 mln Chinese
More than 20 million Chinese people will be covered by a serious disease insurance program as the government is increasing subsidies this year.
Premier considers visiting Japan this year
Chinese Premier Li Keqiang said that he would consider attending the China-Japan-ROK leaders' meeting and paying an official visit to Japan in the first half of this year.