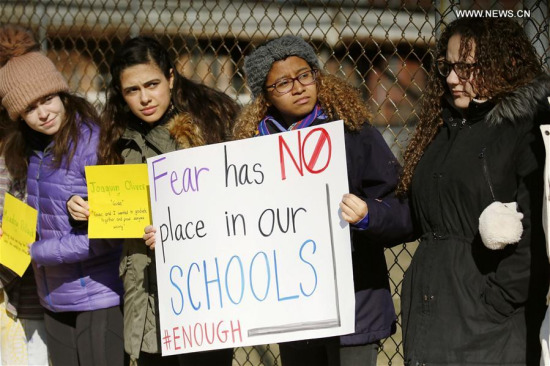 Students of Walter Payton College Preparatory High School protest against gun violence in Chicago, the United States, on March 14, 2018. (Xinhua/Wang Ping)
In an unprecedented move in recent U.S. history, thousands of high school students walked out of class across the country on Wednesday in a call on Congress to pass tighter gun-control laws.
Across every time zone, "#ENOUGH: National School Walkout" lasted 17 minutes -- one minute for each of the victims gunned down on Feb. 14 at Marjory Stoneman Douglas High School in Parkland in the U.S. state of Florida.
"Enough is enough," the students said over and over during their protest, underlining the urgency of sensible gun control in the United States.
In less than two weeks, thousands are expected to gather in Washington, D.C., for a "March for Our Lives" protest on March 24. Another national school walkout is planned on April 20, the anniversary of the 1999 school shooting in Columbine, Colorado.
Despite the public outcry for stricter gun laws after a mass shooting, the gun debate in the United States tends to fade away until the next tragedy takes place.
But "this time it feels different," said daily newspaper amNewYork in its editorial on Thursday. "Soon enough, if our children cannot persuade us to give them a safer, better nation, they will make one for themselves."
GUN CONTROL
An updated tally of gun violence-related deaths in the United States shows that 2,883 people have already died this year and another 4,909 injured, according to Gun Violence Archive (GVA), a widely quoted non-profit organization tracking gun violence incidents in the United States.
Some 120 children, aged below 11, have been killed or injured in such incidents in the country so far this year, said the GVA.
The U.S. failure to bring down the gun-related violence and murder rate is a result of many factors, according to experts.
For one thing, with the vast and growing gap between liberals and conservatives, Republicans and Democrats, gun control has become an increasingly partisan issue, with Republicans more uniformly opposed.
It also involves the powerful gun lobby, mostly by the National Rifle Association (NRA), one of America's richest and most influential lobbying groups.
America's electoral structure also lends NRA supporters outsize influence, as many gun-rights advocates live in rural areas where a few votes can swing a congressional election, experts said.
Due to the complicated web of interwoven political and business interests, the U.S. Congress has not approved major gun-control legislation since the 1990s.
But analysts argued that even if stricter laws were enacted, there is reason to wonder how much of a difference these laws would make as hundreds of millions of guns are already in civilian hands across the United States.
POSSIBLE QUICK FIX
The number of guns held by Americans is around 357 million, according to an estimate by the Washington Post, based on federal manufacturing tallies and figures of U.S. arms trade.
Although different agencies have come up with slightly different figures for the the total number of guns in the United States, they mostly agree that the country has the highest number of guns per capita, given its population size.
"So even if all new gun purchases were banned tomorrow, there are enough rifles floating around the country to fuel countless more mass shootings," the Economist magazine once remarked in a story about U.S. gun control.
Moreover, there are loopholes in the current gun control laws.
Licensed firearms dealers are required to perform background checks on customers by submitting their details to the Federal Bureau of Investigation (FBI), which checks them against databases.
But there are provisions under U.S. gun laws for individuals to sell firearms privately and at gun shows without making background checks on the buyer.
Some gun control advocates suggest that to curb rampant gun violence, the United States could learn from Australia.
Australia enacted a mandatory buyback of firearms and tightened rules on gun ownership in 1996 after a mass shooting in which 35 people were shot and killed and 23 injured at a cafe in Port Arthur, Tasmania.
Since then Australia has not had a mass shooting and over the same period, the United States has suffered more than 90 mass shootings, according to the advocates.