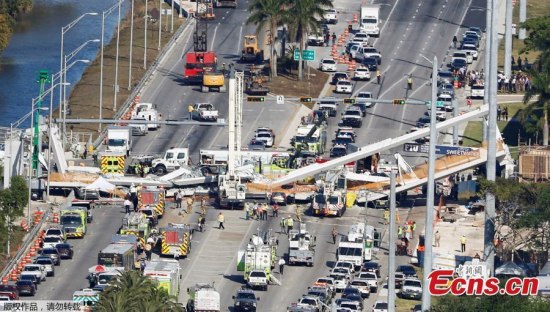 Aerial view shows a pedestrian bridge collapsed at Florida International University in Miami, Florida, U.S., March 15, 2018. A pedestrian footbridge near Florida International University (FIU) collapsed Thursday afternoon, causing "several fatalities," local authorities said. (Photo/Agencies)
At least four people have been killed after a pedestrian footbridge collapsed Thursday afternoon near Florida International University (FIU), local authorities said.
"We have located up to four victims, four deceased," Miami-Dade County Fire Rescue Department Chief Dave Downey told a press briefing Thursday evening.
He said nine victims were transported to hospitals "early on," and it's unclear if the dead were included in those that were taken to the hospital.
Miami-Dade County police said previously at least eight cars had been crushed under the walkway.
The incident, which took place in the early afternoon, involved a footbridge linking an FIU campus with a nearby residence area.
Downey said over 100 rescuers have been dispatched to the scene, and will continue in "search and rescue mode" until it's determined that no more victims are trapped.
"The biggest obstacle for search and rescue is the stability of the structure," Downey said.
Munilla Construction, one of the constructors of the bridge, issued a statement, saying it is devastated by the "catastrophic collapse" and is "doing everything we can to assist."
"We will conduct a full investigation to determine exactly what went wrong and cooperate with investigators," the statement said.
FIU President Mark Rosenberg said all contractors involved in the construction were "certified by the state" and that "this is one of the most intensely managed projects around."
Rosenberg said constructors were conducting a test on the bridge earlier Thursday, but the result of the test was not alarming.
The 950-ton cable-supported bridge spanned 174 feet (53 meters) over a six-lane expressway. The main span of the bridge, scheduled to open in early 2019, was put in place on Saturday morning by a rapid installation method.
Florida Governor Rick Scott vowed to conduct a full investigation into the incident.
The FIU has said the innovative installation method significantly reduced risks to workers, pedestrians and motorists and minimized traffic disruptions.
The project cost 14.2 million U.S. dollars and was funded by the U.S. Department of Transportation.