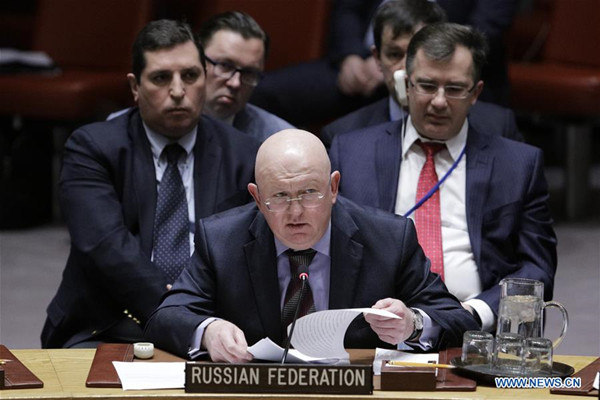 Russian Ambassador to the United Nations Vassily Nebenzia (Front) addresses a Security Council emergency meeting regarding accusations of the use of a nerve agent in the United Kingdom at the United Nations headquarters in New York, on March 14, 2018. Russian Ambassador to the United Nations Vassily Nebenzia said Wednesday that Britain's allegations that Moscow was responsible for a nerve attack were "completely unacceptable." (Xinhua/Li Muzi)
Moscow will soon take retaliatory measures against Britain regarding the spy attack row, Russia said on Thursday.
Russian Foreign Ministry spokeswoman Maria Zakharova said Britain had refused to cooperate with Russia "on the fulfillment of its duties as a signatory to the Chemical Weapons Convention."
At a news briefing, Zakharova said the Foreign Ministry had sent several diplomatic messages to the British side via the Russian embassy in that country, adding it has only received meaningless formal replies so far.
On the same day, Russian Foreign Minister Sergei Lavrov said that Moscow will soon expel British diplomats in response to Britain's punitive actions.
British Prime Minister Theresa May on Wednesday announced a series of measures against Russia over its failure to respond to demands by the British government to explain how a military-grade nerve agent was used in a recent attack on former Russian spy Sergei Skripal and his daughter.
These measures included the expulsion of 23 diplomats in a week, the freezing of Russian state assets in Britain, the suspension of all planned high level bilateral contacts and the boycott by ministers and the royal family to attend the FIFA World Cup in Russia.
Skripal, a former Russian intelligence officer, and his 33-year-old daughter Yulia were found unconscious on a bench at a shopping center in the district of Salisbury, England, on March 5.
They remain in critical condition in hospital, according to reports.
The Russian government has denied any involvement in the attack.