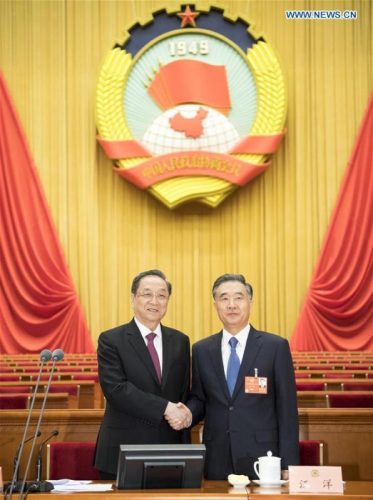 Yu Zhengsheng, chairman of the 12th National Committee of the Chinese People's Political Consultative Conference (CPPCC), shakes hands with Wang Yang, who presides over a presidium meeting of the first session of the 13th CPPCC National Committee, during a preparatory meeting for the first session of the 13th CPPCC National Committee in Beijing, capital of China, March 2, 2018. (Xinhua/Li Xueren)
Wang Yang, currently vice-premier of the State Council, was elected chairman of the National Committee of the Chinese People's Political Consultative Conference (CPPCC), the top political advisory body, on Wednesday in Beijing.[Special coverage]
He was elected at the fourth plenary meeting of the first session of the 13th CPPCC National Committee.
Wang, born in March 1955 in Suzhou of East China's Anhui province, is a member of the Political Bureau Standing Committee of the 19th Central Committee of the Communist Party of China.
He was endorsed as the vice-premier of China's State Council in March 2013 after serving as secretary of CPC Guangdong Provincial Committee between 2007 and 2012.