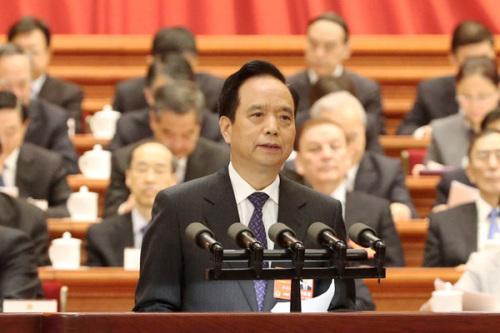 Li Jianguo speaks at the fourth plenary meeting of the first session of the 13th National People's Congress at the Great Hall of the People in Beijing on Tuesday. (Photo/China Daily)
Legislators began reviewing a much anticipated draft law on national supervision on Tuesday that aims to set up centralized, efficient oversight of the country's anti-corruption campaign. [Special coverage]
The new measure, an essential part of the reform of supervisory institutions, is expected to serve as a fundamental and guiding law against corruption and for State supervision, said Li Jianguo, vice-chairman of the Standing Committee of the 12th National People's Congress, as he introduced the bill to the 13th NPC on Tuesday morning.
It is aimed at enhancing the leadership of the Communist Party of China in anti-corruption campaigns and will bring all public officers under scrutiny, he said.
New supervisory commissions will be established at the national, provincial, city and county levels. Tasked to handle job-related crimes, they will independently exercise supervisory power, and not be subject to interference from the government, social organizations or individuals.
The commissions are to oversee State functionaries, investigate corruption cases such as bribery, embezzlement and abuse of power, impose administrative penalties on corrupt officials, and hand over criminal cases to prosecutors, according to the draft law.
"In the face of a tough and complicated situation, our existing supervisory institutions were clearly unable to meet the demands of the battle against corruption and the campaign to clean up the Party," Li said.
Under the old system, the Party disciplinary network oversaw all Party members and administrative agencies governed civil servants, which left a considerable number of State functionaries unsupervised. That included management at State-owned enterprises and workers at public schools and medical institutes.
Supervisory powers also were divided among three agencies, with Party agencies regulating Party members according to Party rules, administrative agencies watching civil servants according to administrative laws, and procuratorates prosecuting State functionaries suspected of corruption using criminal law.
"The agencies, with their power divided and overlapping, did not function in harmony," Li said, adding that procuratorates, which not only investigate but also prosecute, were not under effective supervision. With reform, supervision, corruption control and prevention divisions of the government and procuratorates merged, pooling anti-graft resources. The draft law incorporates practices used in the pilot reform of supervisory systems that began in Beijing and Shanxi and Zhejiang provinces in December 2016, Li said. That model was expanded nationwide in November 2017.
Part of the pilot reform was a new detention system tested as a replacement for shuanggui, an intraparty disciplinary practice in which a Party member under investigation must cooperate with questioning at a set time and place.
"Replacing shuanggui with rigorously regulated detention will help settle a long-lingering legal problem," Li said. "This shows our resolve and confidence to have fully law-based governance."
Zhou Guangquan, an NPC deputy and law professor at Tsinghua University, said the draft highlights protection for graft suspects, which will help exclude any evidence obtained illegally.