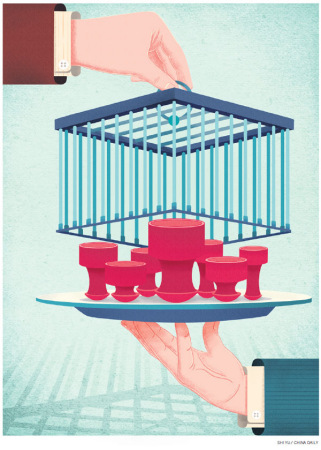 Pilot programs extended nationwide to combat corruption.
"We had no precedent to follow and no experience to draw on. We have been the icebreakers and we made it," said Jin Xiaodong, head of the supervision commission of Shangcheng district in Hangzhou, Zhejiang Province, talking about the first case of detention the commission handled. [Special coverage]
In March last year, a month after the commission was established as part of a district-level pilot, Jin started working on its first case. The subject was Yu Jianjun, a civil servant suspected of abuse of power and embezzling public funds which he used to repay debts, buy luxury goods and gamble.
Yu isn't a member of the Communist Party of China, so he was not monitored by the Party's disciplinary authorities. Instead, he was under the supervision of Jin's team, as a result of ongoing reform which has seen the supervisory commission's role expanded to cover all public servants.
After careful investigations into Yu's activities, Jin's team issued the commission's first detention order. Without detailed detention procedures or legal instruments for reference, they overcame many difficulties to conduct the investigation and collect evidence.
"It took 33 days to complete the investigation and transfer Yu to the Shangcheng district people's procuratorate so judicial proceedings could start. Everything was done with maximum efficiency," Jin said.
Mao Mingxiu, deputy director of the Shangcheng supervisory commission, said that during the detention period, the inspectors were careful to protect Yu's rights, and made synchronized video and audio recordings whenever he was formally questioned.
In December, Yu was convicted of corruption at Hangzhou Intermediate People's Court. He was sentenced to 15 years in prison and fined 2 million yuan ($316,000).
Yu was the first corruption suspect to be detained by the Shangcheng supervision commission since a pilot program was launched in 2016.
On Tuesday, the National People's Congress, the top legislature, is scheduled to deliberate a draft supervision law designed to lay a legal foundation for an upgraded anti-graft task force. If the law is adopted, a new supervisory network will be established, consisting of supervisory commissions at the national, provincial, city and county levels, all with legally defined duties, liabilities and protocols.
"The new supervision law and anti-graft system will lay a solid foundation for the country to achieve an overwhelming victory in the fight against corruption," said Ma Huaide, vice-president of China University of Political Science and Law.
Momentum
Since late 2012, when Xi Jinping became general secretary of the CPC Central Committee and head of the military, the fight against corruption has been a top priority nationwide and a crushing momentum has been formed against graft.
When he delivered a report to the 19th CPC National Congress in October, Xi said new supervisory commissions would be established at different levels across the country to provide in-depth inspections of all public servants.
According to Ma, the main reason for establishing the commissions - which will share offices and staff members with CPC disciplinary inspectors - was to enhance the Party's unified leadership over anti-corruption campaigns and cover all State functionaries.
The commissions will integrate the existing supervisory, corruption prevention and control agencies within local governments and procuratorates to form a centralized, unified force to combat graft.
"As a unified anti-graft agency under the Party's leadership, the supervisory commission system is an institutional invention incorporating China's reality and international practice," Ma said. "It pools supervisory powers that used to be divided, and forms a centralized, unified and efficient State supervision system."
Gao Bo, a senior official with the CPC Central Commission for Discipline Inspection, said that when all the supervision commissions are in place, every public servant will come under effective surveillance. He added that such an extensive network "expands inspection to all public servants, leaves no loopholes and serves as a powerful deterrent against corruption".