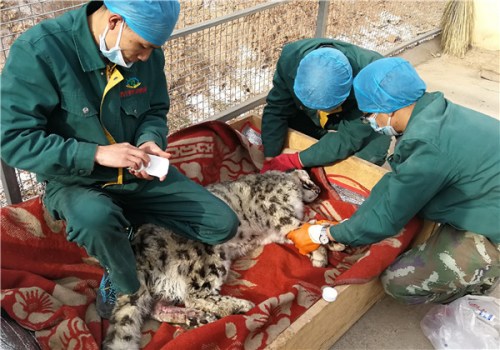 Veterinarians from Xining Wildlife Park tend to an injured snow leopard in Xining, Qinghai Province, in late November. (PROVIDED TO CHINA DAILY)
A seriously injured snow leopard from Qinghai Province that suffered leg fractures is recovering well after undergoing a second operation in Beijing.
The rare cat, a species high on China's list of protected animals, was found by four herders in Zadoi county, Yushu Tibetan autonomous prefecture, in late November, and transported to Xining Wildlife Park at the provincial capital.
The female leopard - since named Lingxue, or "Conquer Snow" - was transferred to a pet clinic the next day due to the poor animal rehabilitation conditions at the park, according to Qi Xinzhang, deputy director of the park.
Lingxue was discovered to have a fracture to her left hind-leg and other minor injuries that may have been caused by a vehicle. The leopard underwent surgery on Dec 13 and was soon able to stand on all four limbs.
However, the surgery was not as successful as originally thought, and her leg broke again in late January. Anxious and worried, Qi reached out for help via social media. His appeal received an almost instant response, and the leopard was flown to Beijing to undergo surgery at an animal hospital on Feb 7.
"The possible causes for failure in the first surgery are still unknown," said veterinarian Yao Haifeng, who performed the operation in Beijing for free.
The animal is recovering well in Beijing Zoo's veterinary hospital, staying in a cage specially made for it to restrict heavy activity, said Lu Yan, director of the hospital.
"If everything goes well, Lingxue will be released back into the wild in Qinghai in three months," he said.
Not all wild creatures are as lucky as Lingxue. In 2017, Qi's team tried to save four injured snow leopards they found on the Qinghai-Tibet Plateau, but just two of them survived.
From 2013 to 2017, the park has tried to rescue 500 injured wild animals, representing 63 species. Among them, about 300 have been released into the wild after recovery, and 10 are still being treated. The others have died.
"Injured wild animals are not easy to find because they tend to hide and recover in solitude," Qi said. "So when people notice them, they are usually in extremely poor condition, making a successful rescue more difficult."
Villagers are often the first to discover an injured animal, and they usually report it to the local authorities as soon as possible. "Although they are more aware of wildlife protection, they do not have first aid skills," Qi said of the local governments' ability to rehabilitate injured wildlife.
China is home to about 2,500 snow leopards, with the Qinghai-Tibet Plateau being the cat's major habitat. "The area is vast and sparsely populated, and medical care there is poor for humans, let alone wild animals," Qi said.
He said a top-down wildlife rescue system, involving government, social groups and residents, needs to be established to improve wildlife protection.
"There is no full-time professional rescue personnel in the park. All 10 people who manage animal health issues here are part-time and not professionals," he said, adding that the launch of a rescue center or hospital for wild animals in Xining is of critical importance.
Qi also said any such future center should be equipped with professional medical facilities and have enough full-time veterinarians and experts able to provide timely advice and care.
County-level stations are also important in places where wild animals are abundant, he added.