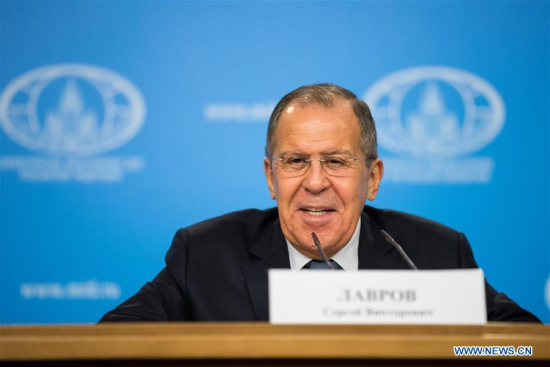 ussian Foreign Minister Sergey Lavrov (Xinhua file photo)
Russian Foreign Minister Sergey Lavrov said Thursday that the United States does not have authority to criticize the relationship that China has with African countries.
U.S. Secretary of State Rex Tillerson, who is on a five-nation African tour, was quoted by media criticizing the way Beijing structured loans to African countries.
He also claimed that Chinese investments did not lead to significant job creation in Africa.
Lavrov, who was visiting Zimbabwe, said Tillerson's words were inappropriate, state news agency New Ziana reported.
"I did not know that Rex Tillerson was a specialist in China-Africa ties. But I do not think it is entirely appropriate if he indeed said that," said Lavrov.
"We never meddle within the domestic affairs of any other country, even though we hear allegations to the contrary on a daily basis from Washington and other Western countries," Lavrov said.
Zimbabwean Foreign Affairs Minister Sibusiso Moyo weighed in saying the remarks by the United States were misplaced.
"Africa has its own self determination in terms of charting its own course, in terms of economic co-operation with any member of nations in the international arena," he said.
China has stepped up economic cooperation with Zimbabwe and is funding investment projects across different sectors of the Zimbabwean economy.
The deals include financing for the expansion of the Hwange Power Station, the construction of a new parliament building and a pharmaceutical warehouse, the expansion of a national fiber optic broadband project and the provision of wildlife monitoring equipment.
China has promised sincerity, real results, friendship and good faith to Africa and "work together for a community with a shared future for humanity," as Chinese Foreign Minister Wang Yi put it on Thursday.
"African brothers and sisters are welcome to get on board China's fast train of development," Wang told a press conference on the sidelines of the annual session of the National People's Congress. Changes in the world will not break China-Africa friendship.