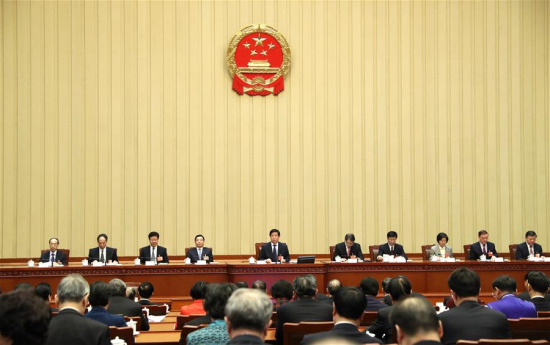 Li Zhanshu, executive chairperson of the presidium of the first session of the 13th National People's Congress (NPC), presides over the second meeting of the presidium at the Great Hall of the People in Beijing, capital of China, March 8, 2018. (Xinhua/Ju Peng)
The presidium of the first session of the 13th National People's Congress (NPC) met Thursday to decide on matters about the draft constitutional amendment.[Special coverage]
The presidium was briefed on the deliberation of the bill among all NPC delegations and a revised version of the bill drafted by the executive chairpersons based on opinions of delegations, said a statement issued after the meeting.
It decided to send the report about the deliberation and the revised version to all delegations for another round of review.
The meeting was presided over by Li Zhanshu, executive chairperson of the presidium.
Before the presidium meeting, executive chairpersons held their first meeting, also chaired by Li.