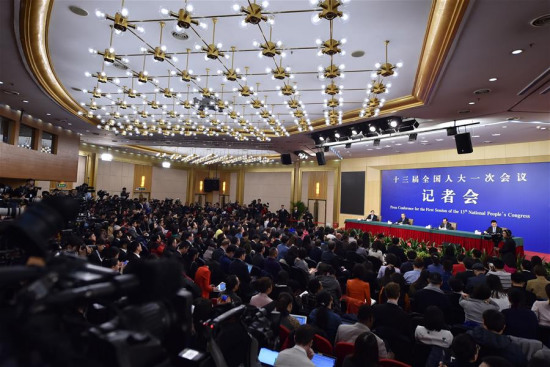 Chinese Foreign Minister Wang Yi takes questions on China's foreign policies and foreign relations at a press conference on the sidelines of the first session of the 13th National People's Congress in Beijing, capital of China, March 8, 2018. (Xinhua/Li Xin)
China on Thursday gave outsiders an inside look at how the country intends to tackle diplomacy as its global influence grows.[Special coverage]
Taking questions at an annual press event, Foreign Minister Wang Yi made a rough sketch of "major-country diplomacy with Chinese characteristics," which embodies championing peace, being non-threatening, standing up for the small and weak, and sharing development opportunities.
The two-hour press conference, held on the sidelines of the annual session of the national legislature, is known for explaining China's take on the latest world issues.
Major-country diplomacy rose to prominence under President Xi Jinping's leadership. The concept involves building a new type of international relations and a community with a shared future for humanity to truly benefit the world.
XI THE ARCHITECT
Wang credited Xi as being the chief architect of the major-country diplomacy concept and said the president had been personally involved in planning and conducting "brilliant" head-of-state diplomacy.
Wang said head-of-state diplomacy was the highest form of international exchange and had irreplaceable advantage and strategic value over other forms of diplomacy.
As top leader, Xi has visited 57 countries and received more than 110 foreign heads of state, deepening the world's understanding of China, enhancing China's profile and influence, and helping find solutions to many global problems.
Xi's concept of building a community with a shared future for humanity has received worldwide recognition and plaudits. It was even included in a number of United Nations resolutions.
Ruan Zongze, executive vice president of the China Institute of International Studies, pointed out the significance of the concept and what it could achieve.
"The notion has enriched the theoretical system of international relations and provided a new, Chinese perspective on how countries get along with one another," he said.
This year, Xi will host four global events in China: the Boao Forum for Asia annual conference in April, the Shanghai Cooperation Organization summit in June, the Forum on China-Africa Cooperation (FOCAC) summit in September, and the First China International Import Expo in November.
He will also attend the BRICS summit in South Africa, the APEC Economic Leaders' Meeting in Papua New Guinea and the G20 summit in Argentina.
"President Xi's leadership and charisma have earned him and the country many good friends, among foreign leaders who represent a diverse range of cultures and social systems," Wang said.
BIG, NOT THREATENING
This year, Wang met the press at a time the term "sharp power" has been conjured up to invoke concern about the growing influence of China and Russia in the world. On being asked about this term, Wang did not mince his words.
"It is time that the China threat theory was laid to rest," Wang snapped. "Those who do not have bias or practice double standards will see China's development as an opportunity instead of a threat."
He said China's contribution to the global economic growth was bigger than that of the United States, Japan and the euro zone combined, and that China accounted for more than 70 percent of poverty reduction worldwide.
On whether China posed a challenge to the United States, Wang was clear. Brushing off such anxieties, he said China had "no need or intention of replacing the United States" in its international role, and that it was "fundamentally wrong" for anyone to say that China would replace America's role in the world.