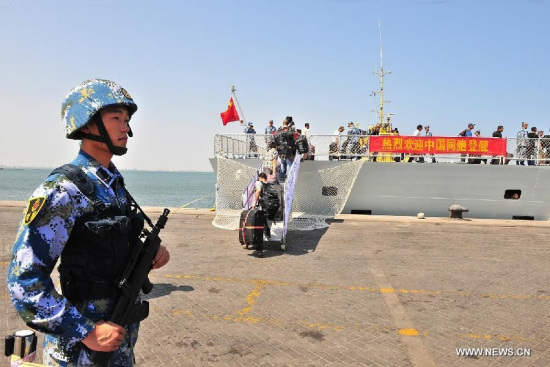 A crew member guards a Chinese navy vessel in Aden Harbor, Yemen, March 29, 2015. /Xinhua Photo
Military themed action movie "Operation Red Sea" recently hit the big screen in China, swiftly gaining popularity amongst Chinese audiences and credited with bolstering patriotism. It narrates a story about a group of Chinese soldiers (Jiaolong Assault Team) evacuating Chinese citizens in a fictional war-torn foreign country.
The movie was inspired by the evacuation of Chinese citizens in Yemen's port of Aden during Yemen's civil war in 2015.
The famous operation in 2015, which was considered as a modern "Noah's Arks", saved a total of 629 Chinese nationals and 279 foreign citizens from the restive Yemen. It was also the first time ever that China deployed warships for an evacuation.
The Chinese government is committed to making its people a top priority, as Chinese Foreign Minister Wang Yi once said, the country will do everything possible to protect the legitimate rights of its citizens overseas.
Consular assistance in 2017
In 2017, Chinese people made more than 146 million outbound visits, and the around-the-clock emergency hotline 12308 set up for Chinese nationals by the foreign ministry has received more than 170,000 calls from overseas.
In September, China's diplomatic services and overseas companies launched an evacuation operation in the Caribbean island of Dominica after a hurricane hit the country on the evening of September 18, causing severe damage.
By September 28, a total of 487 Chinese citizens trapped by the hurricane had been evacuated to neighboring country Antigua and Barbuda.
Two months later, on November 29 in another evacuation operation, two major Chinese state-owned carriers sent flights to fetch more than 2,700 Chinese tourists stranded in Bali, Indonesia, after a volcano eruption.
As of December 4, China has sent out more than 82 Chinese and foreign commercial flights, helping more than 18,000 Chinese tourists come home.
Previous major evacuations
In November 2008, approximately 3,000 Chinese tourists were stranded in Thailand's capital Bangkok due to anti-government protestors who seized two airports. Chinese aviation authorities arranged a total of 12 flights from the Chinese mainland to fetch the trapped Chinese tourists. On December 3, all stranded Chinese citizens returned from Thailand.
In February 2011, China evacuated more than 35,000 Chinese nationals after bloody unrest erupted in Libya. There was vandalism, looting and arson, with Chinese firms attacked and Chinese nationals injured.
In June 2014, more than 1,200 Chinese workers trapped in the northern Iraq city of Samarra were safely evacuated to the capital Baghdad as sectarian violence grew.
In May 2015, three Chinese military helicopters evacuated 108 people from several areas in Nepal, a day after a 7.5-magnitude earthquake that claimed at least 65 lives and injured over 1,900 people.
In July 2016, the Chinese government evacuated 17 embassy staff, 12 members of a Chinese medical team and 20 people from Chinese companies from Juba, capital of South Sudan after two Chinese peacekeepers under a UN Mission in South Sudan were killed.
(With input from Xinhua)