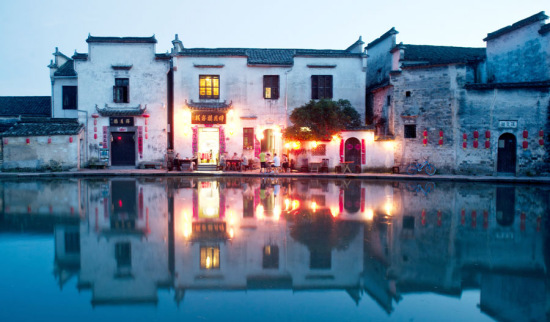 Tourists dine at a restaurant by the side of the Yuezhao, or Moon Pool, at Hongcun, an ancient village in Huangshan city, East China's Anhui province, July 2, 2013. (Photo/Xinhua)
A national cultural watchdog has vowed to strengthen the protection of China's cultural heritage.[Special coverage]
Liu Yuzhu, director of the State Administration of Cultural Heritage, called for a more complete oversight mechanism to safeguard the country's relics on the sideline of the first plenary meeting of the 13th National Committee of the Chinese People's Political Consultative Conference on Saturday.
"The safety issue is the foundation of work related to cultural relics," Liu said. "We need more detailed and tailored plans."
He said local governments and the institutions that manage or use cultural heritage units need to be jointly responsible for the safety of the relics in case of fire, theft and other threats.
The administration has begun close cooperation with other departments to fight against safety threats. For instance, the Ministry of Public Security announced it had uncovered about 20 major tomb robberies last year, which Liu attributed to such cooperation.
Nevertheless, Liu, also a member of the CPPCC National Committee, revealed that the administration has recently had a nationwide investigation on the status quo of the country's key cultural heritage sites, and found some problems, such as lack of expertise and personnel.
For example, he pointed out some officials in local governments who should be focused on being in charge of cultural heritage also are assigned to other positions.
"A person's energy and capacity is limited," Liu said. "We need to remain conscious of the importance of professional capacity in our deepening comprehensive reform."