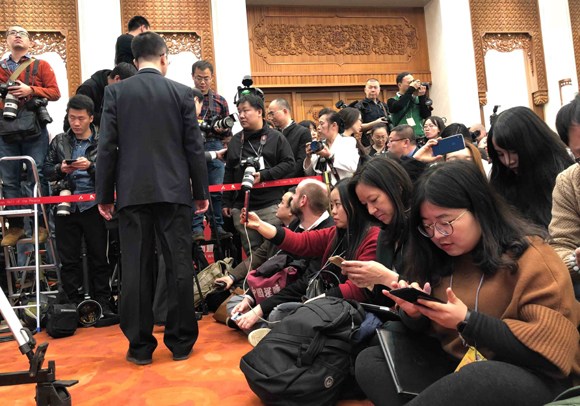 Journalists at the CPPCC press conference at the Great Hall of the People in Beijing, China on March 2, 2018 (Photo/CGTN)
It's Two Sessions time – the high point of the annual Chinese political calendar, when some 5,000 delegates and members converge in Beijing for two weeks of discussions, reports and elections. [Special coverage]
The actual meetings kick off this weekend but journalists got a preview of what was to come at the press conference of the National Committee of the Chinese People's Political Consultative Conference (CPPCC) on Friday at the Great Hall of the People.
If there was any doubt that this year's event would be closely followed, a quick look around the room put that idea to rest. A few hundred journalists packed the venue, some of us even sitting on the floor, while photographers were perched on mini-ladders around the sides.
After a brief summary of the CPPCC's program over the next two weeks, Wang Guoqing, the spokesman of the first session of the 13th CPPCC National Committee, spent over an hour answering questions, mostly from Chinese mainland media but also a handful of reporters from Hong Kong-based and Japanese news organizations.
The questions covered everything from China's reform and opening up policy – which celebrates its 40th anniversary this year – to poverty alleviation, education and Beijing's air pollution.
Officials around the world, when they lay out oft-repeated policies and ideas, can fall into a monotone. But every once in a while, they become passionate about an issue – journalists then sit up and get busy typing or scribbling in their notebooks, accompanied by a chorus of shutters going off as photographers scramble to capture the official's gestures and animated expression.
On Friday, three questions got this type of response.
Asked for a reaction to concerns by foreign media and observers that China was using "soft power" to wield influence abroad, Wang hit back.
"Regrettably now in the 21st century, some people in the West still use a Cold War mindset," he said in comments translated by an interpreter, accusing Western nations of trying "to draw ideological lines."
This is "not the first time a phrase has been invented to smear China and it won't be the last," he continued.
Wang also spoke up over recent comments by the Trump administration that it had been a mistake to let China join the World Trade Organization (WTO).
"Credibility is crucial to a country. A big country should honor its words instead of reneging on its promises," Wang said.
China has delivered on its promises and shown it supports an open world economy, he added.
"What is worrisome to many WTO members is the unilateral actions and voices from the United States. As important members of the WTO, both China and the US need to uphold the authority of the WTO rules," he insisted.
Perhaps the strongest words however came after a question about China-Japan relations, which have been cool amid territorial disputes and the handling of World War Two history.
After highlighting recent "positive signals" from Tokyo and expressing hope that the two neighbors could work together to get bilateral relations "back on track as quickly as possible," Wang seemed to go off script for a moment.
The crux of the problem "lies in the flip-flop attitude of the Japanese government" towards history and "the narrow-minded thinking of some Japanese politicians," he slammed.
"A country that attempts to forget the past and does not face history cannot win respect," he said.
The CPPCC session will open officially on Saturday and run until March 15.